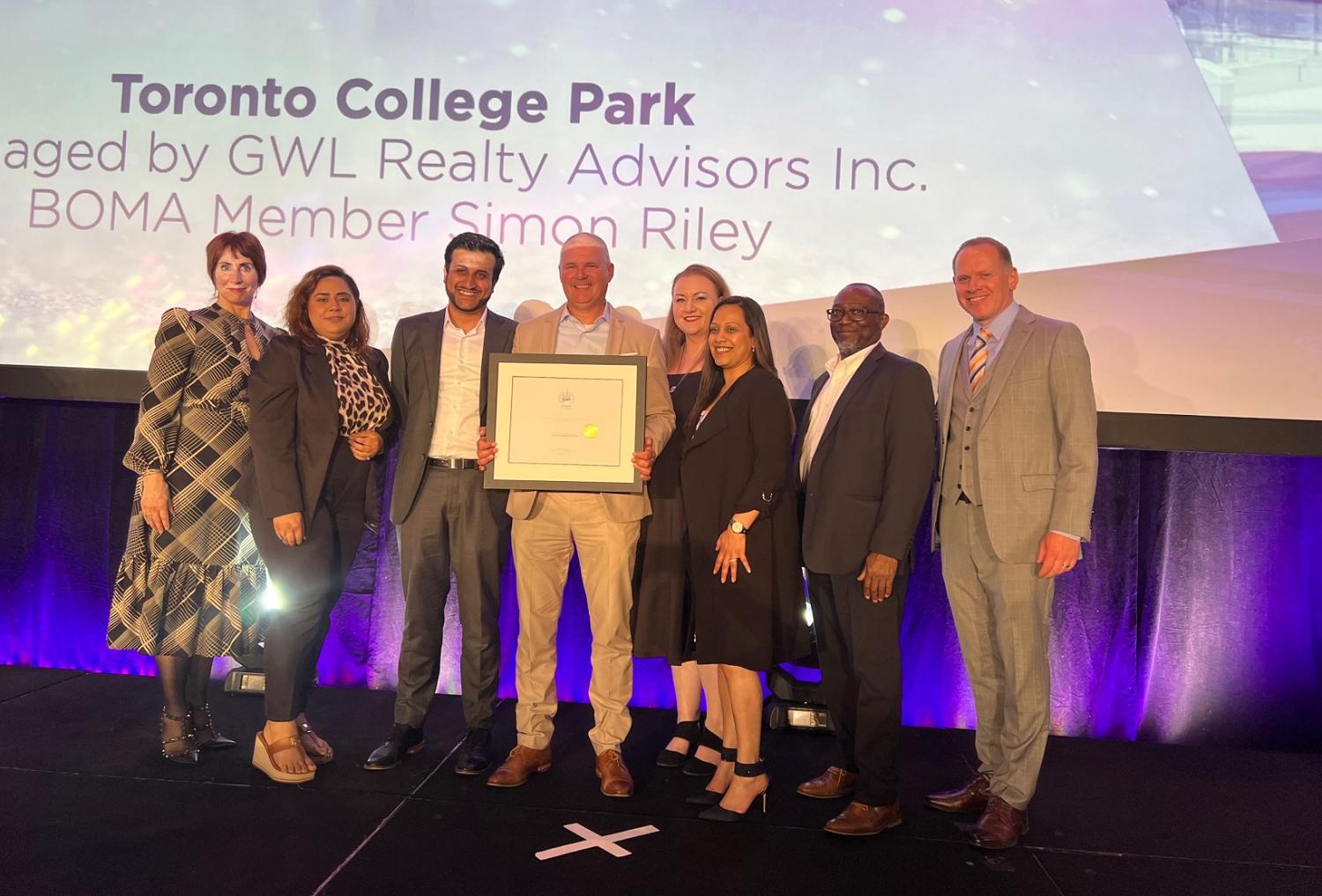 +
2022 was a Record-Breaking Year for GWLRA
January 26, 2023
In 2022, GWL Realty Advisors (GWLRA) received a total of 18 awards and certifications across their Canadian portfolio in a record-breaking year for the company.
GWLRA was recognized by several Building Owners and Managers Association (BOMA) chapters including British Columbia, Toronto, Quebec, Canada, and International. BOMA's award programs recognize excellence in the commercial real estate industry. Winners are chosen based on exceptional building standards, community impact, tenant relations, energy conservation, and much more. In total, GWLRA received seven TOBY Awards, three Certificates of Excellence, three GHG Target Achievements, a Building Operations Team of the Year Award and a Health and Safety Award.
Two of our buildings (190 Simcoe and 330 University) that received TOBY Awards from BOMA Toronto in 2021 prior went on to win at BOMA International's TOBY Awards Reception & Banquet in 2022 for the categories of Corporate Facility and Historical Building.
In 2022, we also picked up two prestigious industry awards at the 2022 HOOPP LEAP Awards Show in Vancouver, British Columbia. Organized by the Healthcare of Ontario Pension Plan (HOOPP), the LEAP (Leadership in Environmental Advancement Program) Awards honour property managers and tenants for excellence in areas such as sustainability innovation, climate leadership, stakeholder engagement and community impact. GWLRA took home the Stakeholder Engagement Innovator award and the Climate Leader award, showcasing its commitment to working collaboratively with its tenants and continuing to grow its expertise in climate risk management.
The wins are a testament to the consistent high level of service our property management teams provide to their tenants and their communities, along with their commitment to innovation and energy management. Visit our Awards and Recognition page for a full list of awards.

GWL Realty Advisors
GWL Realty Advisors Inc. is a leading North American real estate investment advisor providing comprehensive asset management, property management, development and specialized real estate advisory services to pension funds and institutional clients. GWL Realty Advisors Inc. manages a diverse portfolio of office, industrial, retail and multi-residential assets as well as an active pipeline of new development projects.