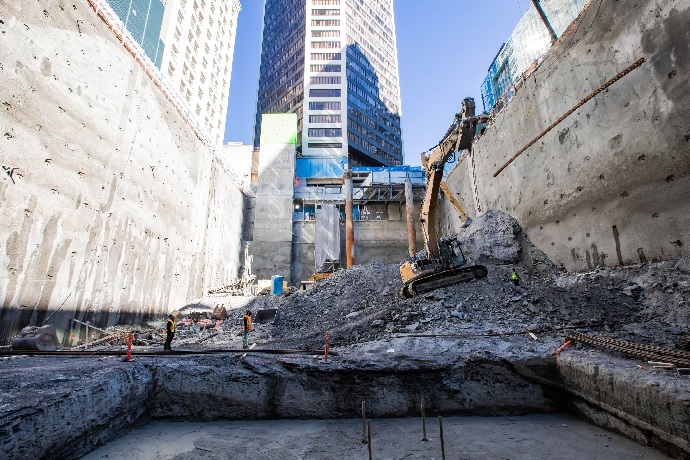 +
B2Gold Signs on at Vancouver Centre II
April 10, 2019
With excavation phase complete, VCII is already nearly 40 per cent leased
Vancouver, BC; April 10, 2019 – GWL Realty Advisors announced today that B2Gold Corp is the latest company to choose Vancouver Centre II (VCII) as its new headquarters. B2Gold will occupy 37,000 square feet across three floors in the office tower. With this announcement, VCII is now 38 per cent leased.
Headquartered in Vancouver, B2Gold Corp. is one of the world's largest gold producers. They've selected one of VCII's premiere spaces, which includes an exclusive portion of the building's Skyline Rooftop Deck.
"GWL Realty Advisors is thrilled to welcome B2Gold Corp. to Vancouver Centre II," says Geoff Heu, Vice President, Development – Western Canada, GWL Realty Advisors. "Given the tower's premier location in the centre of downtown and its direct connection to two transit lines, it's not surprising VCII is generating a lot of interest from top-tier companies like B2Gold. We are pleased with the progress of VCII's leasing so far."
The project also recently marked a construction milestone. With excavation complete, the project's first concrete pour moved forward. The tower will now begin to rise at 733 Seymour, which puts it on track for completion in 2021. VCII will be the first office tower completed in the current cycle of downtown office development.
VCII offers its tenants access to first-class amenities, including the 29th Floor Skyline Rooftop Deck; a state-of-the-art fitness facility and yoga studio; and end-of-trip cycling facilities. The project is targeting LEED Platinum certification and is registered with the International WELL Building Institute™. VCII's Wired Certification will ensure it has the digital infrastructure to address the advanced technology needs of today and the capacity to upgrade to meet future needs.
When complete, VCII will sit squarely in the middle of Vancouver's central business district, which has been shifting east in recent years. GWL Realty Advisors is developing VCII on behalf of owners: Healthcare of Ontario Pension Plan, The Great-West Life Canadian Real Estate Investment Fund No.1, and London Life Real Estate Fund. http://www.vancouvercentre.com.
Media contact: Simone Abt | Elettra Communications | C: 604 512 8714 | simone@elettra.ca

GWL Realty Advisors
GWL Realty Advisors Inc. is a leading North American real estate investment advisor providing comprehensive asset management, property management, development and specialized real estate advisory services to pension funds and institutional clients. GWL Realty Advisors Inc. manages a diverse portfolio of office, industrial, retail and multi-residential assets as well as an active pipeline of new development projects.