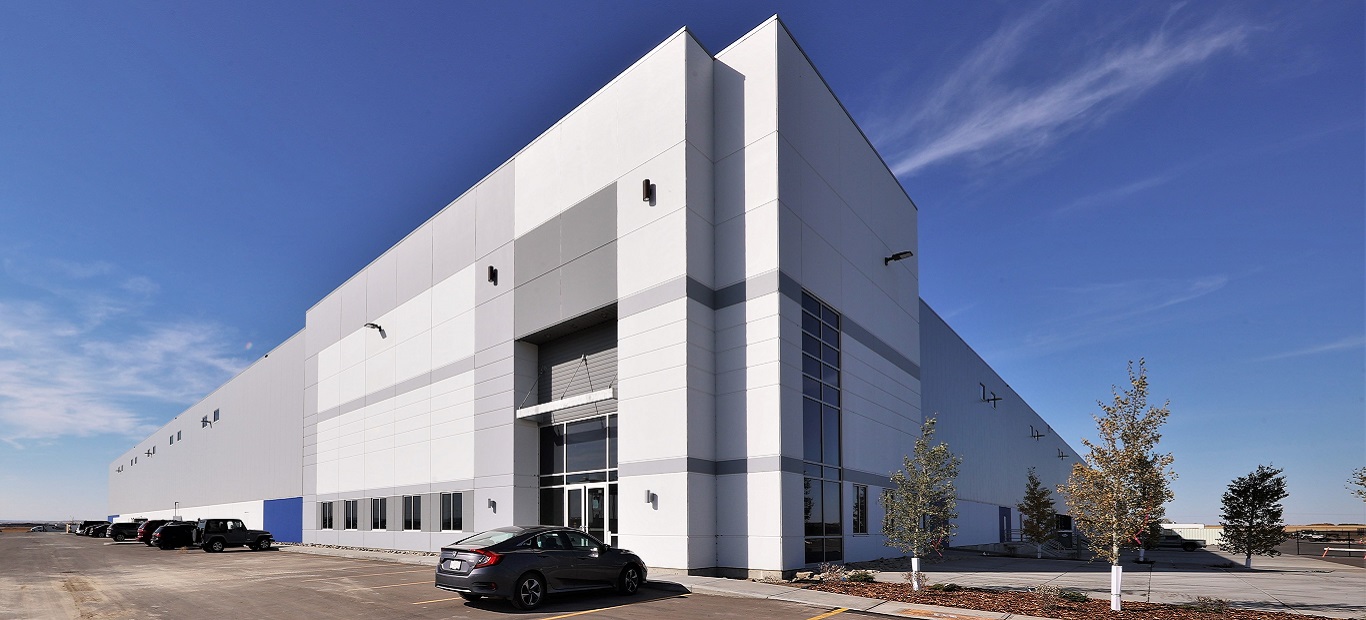 +
GWL Realty Advisors Acquires Two New Distribution Buildings
November 23, 2022
Caps off year of robust activity for industrial asset class
Toronto November 24, 2022. GWL Realty Advisors (GWLRA) announced today that it has acquired two newly constructed and fully leased Class A distribution buildings located in High Plains Industrial Park, north of Calgary in Balzac, AB. This acquisition was made on behalf of GWLRA's client, the Canada Life participating life insurance account and non-participating account segments.
The first building is a single tenant, large bay dual-load distribution facility totaling 433,826 sq. ft. on 21.3 acres with 40' clear heights. The second building is a multi-tenant, mid-bay rear-load distribution facility totaling 186,309 sq. ft. on 10 acres with 32' clear heights.
"This announcement caps off a year of robust activity," said Steven Marino, EVP, Portfolio Management, GWLRA. "We continue to have confidence in the industrial asset class as demand for high quality warehouse space and last-mile distribution facilities remains strong."
A key driver of the acquisition is High Plains Industrial Park's reputation as one of Western Canada's premier distribution hubs. The park boasts easy access to major transportation infrastructure including highways, the Calgary International Airport and both the CPR and CN rail terminals. In addition, the area's proximate to a strong labour force and potential property and business tax savings, make it very compelling to tenants.
With the completion of the High Plains Industrial Park transaction, GWLRA's industrial portfolio has increased to 20.5 million square feet and represents $6 billion in value of our managed portfolio. These assets are primarily composed of light industrial properties that can be easily and rapidly configured for warehousing, light manufacturing, distribution centres and other needs.
Cautionary note regarding Forward-Looking Statements
Certain statements in this news release constitute forward-looking statements. These statements include, without limitation, statements about the completion of future developments. Forward-looking statements are not historical facts but instead represent only GWL Realty Advisors' belief regarding future events, many of which, by their nature, are inherently uncertain and outside GWL Realty Advisors' control. It is possible that actual results will differ, possibly materially, from the anticipated results indicated in these statements. The reader is cautioned not to place undue reliance on forward-looking information. Other than as specifically required by applicable law, GWL Realty Advisors does not intend to update any forward-looking information whether as a result of new information, future events or otherwise.

GWL Realty Advisors
GWL Realty Advisors Inc. is a leading North American real estate investment advisor providing comprehensive asset management, property management, development and specialized real estate advisory services to pension funds and institutional clients. GWL Realty Advisors Inc. manages a diverse portfolio of office, industrial, retail and multi-residential assets as well as an active pipeline of new development projects.