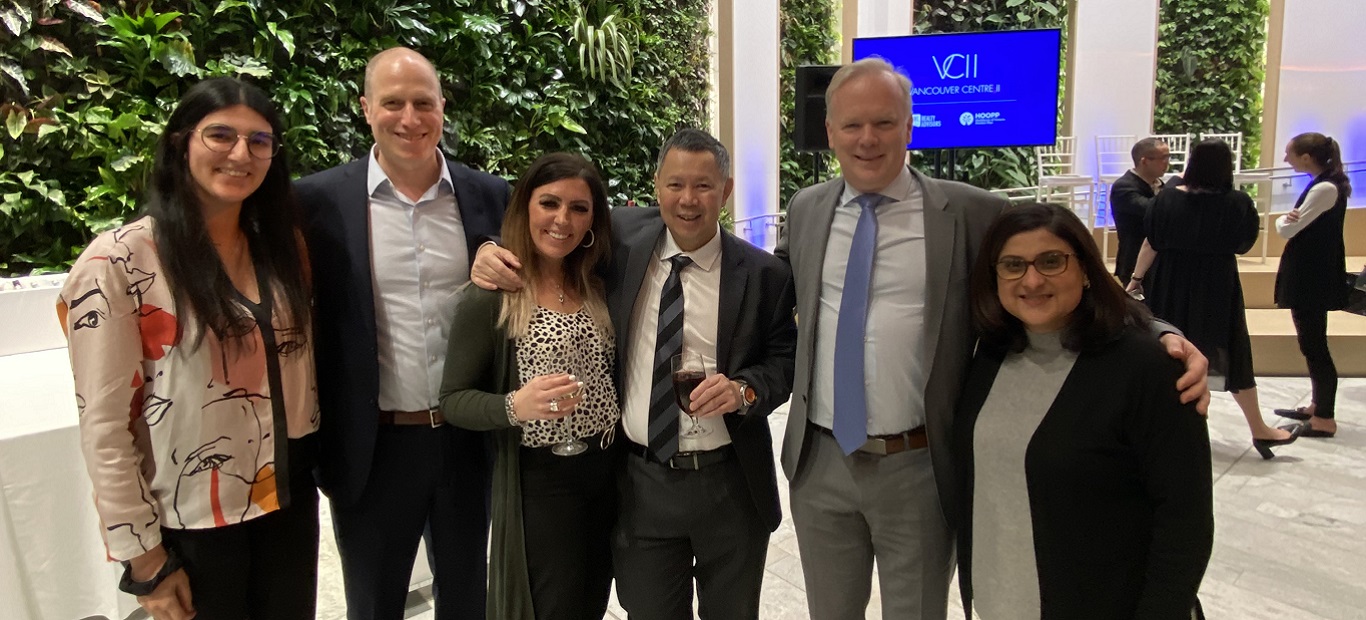 +
GWLRA Crowns 2023 President & Team Award Winners
May 24, 2023
In 2021, GWL Realty Advisors (GWLRA) launched two new internal award programs to recognize and celebrate high performing staff.
The President's Award recognizes staff who continuously strive for excellence, have made a significant contribution to the company over the last calendar year, and who are an exemplary employee in every sense of the word. In 2021 and 2022, we recognized 5 individuals each year, and in 2023, decided to expand the program to 10 to celebrate the great work of more of our staff. The Team Award was created to celebrate one team each year who comes together to accomplish something spectacular.
All nominations are reviewed and ranked by the GWLRA's Executive Committee who meet to select the year's winners. Once selected, the winners are announced during the company's all-staff spring townhall.
"Engaging with the leadership team at GWLRA to select the 2023 President and Team Award recipients has been an honour, the commitment our organization has to recognizing employees plays a key role in our employee experience," said Calli McEachen, Human Resources Programs and Strategy Manager. "I see incredible value in taking the time to celebrate and recognize our innovative and dedicated employees, while highlighting the growth and accomplishments each person has made individually.
This year's President's Award winners contributed to the successful completion of large-scale projects, helped advanced sustainability initiatives, found efficiencies, and simplified processes, and won industry awards.
2023 President's Award Winners
| | | |
| --- | --- | --- |
| Name | Title | Location |
| Brendan Befus | Real Estate Accountant | Calgary |
| Randy Felty | Senior Property Manager | Vancouver |
| Tauqeer Ghazanfar | Director, Strategic Initiatives | Toronto |
| Nancy Harper | Human Resources Manager & Team Lead | Toronto |
| Tiffany Moroz | Real Estate Accountant | Calgary |
| Zachary Moore | Asset Manager | Mississauga |
| Harold Nguyen | Senior Real Estate Accountant | Calgary |
| Susan Noble | Controller, Real Estate, | Calgary |
| Margaret Nolan | Senior Property Administrator | Vancouver |
| Matthew Sharp | Senior Property Manager | Montreal |
2023 Team Award Winner
| | |
| --- | --- |
| Team Name | Team Members |
| Western Canada Development Team | Geoff Heu, Michael Reed, Gord Wylie, Anar Juma, Megan Fox |
GWLRA's Western Development Team opened three new developments in 2022:
The Chronicle: a residential building with 128 rental units and +/-5,300 square feet of retail fronting Robson St.
The Bowline: a residential building with 160 rental units, 136 parking stalls and a robust resident amenity offering.
Vancouver Centre II: A 33-storey LEED Platinum office tower totaling 380,160 sq.ft.
Projects of this nature take a significant amount of time, teamwork, and collaboration - both internally and externally. Adaptability, resilience, and stamina are central to success and this team has a proven track record.
Congratulations to all our 2023 award winners. We thank you for your hard work and dedication and wish you the very best in the coming years.

GWL Realty Advisors
GWL Realty Advisors Inc. is a leading North American real estate investment advisor providing comprehensive asset management, property management, development and specialized real estate advisory services to pension funds and institutional clients. GWL Realty Advisors Inc. manages a diverse portfolio of office, industrial, retail and multi-residential assets as well as an active pipeline of new development projects.