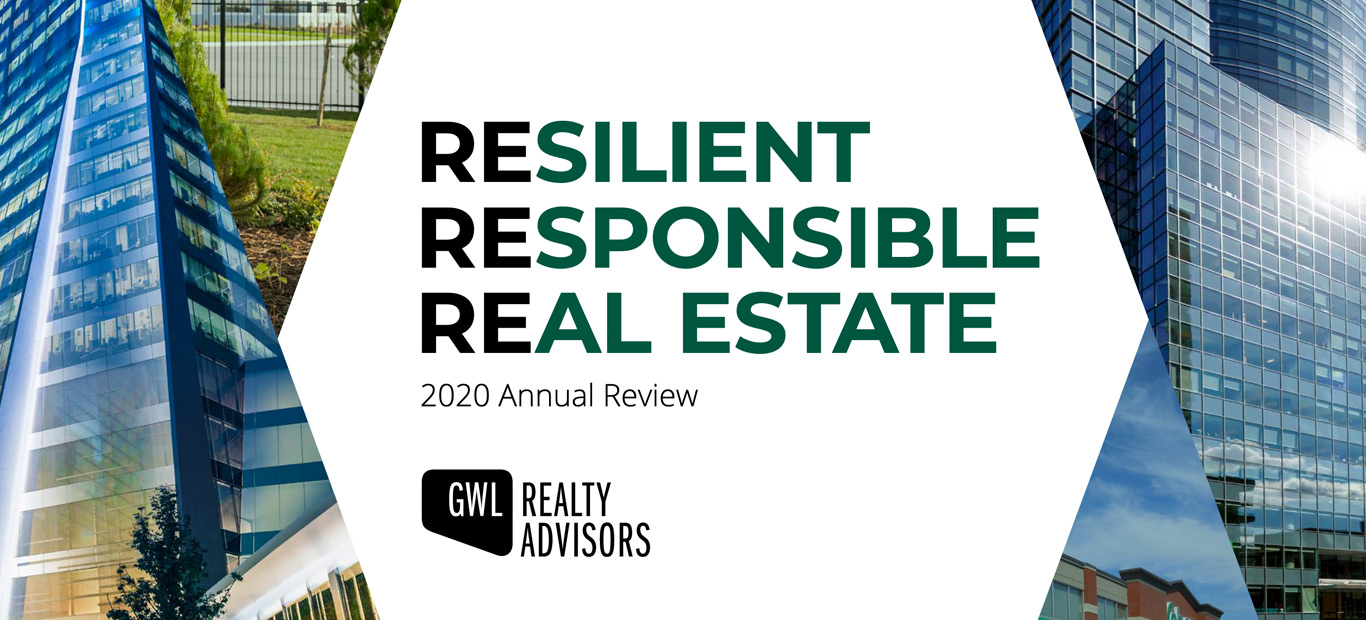 +
GWLRA delivers resilient, responsible returns, outperforming the MSCI Canada Property Index and putting people first at a time of need
June 8, 2021
GWLRA believes that real estate can make a positive impact in the world; it can create real economic and social value, and provide real solutions to environmental issues. Examples of how the company delivered on real estate's potential – as an investment and a business – are featured in its 2020 Annual Report.
"Keeping our values of integrity, ambition, empathy and creativity at the forefront of our decision-making and actions, we found the right balance between meeting the urgent needs of our tenants, residents, employees and communities during the COVID-19 pandemic and building our business for the long term," said Ralf Dost, President, GWL Realty Advisors. "By doing so, we not only generated superior risk-adjusted returns for our clients, we also made life a little easier for many people and demonstrated how real estate can be a force for good in the world."
Creating real economic and social value
For investors: In an environment that challenged all asset classes, GWLRA's 3.5% total return outperformed the one-year MSCI Canada Property Index by almost 800 basis points and exceeded the 2.2% return of the 2020 TSX S&P Composite Index. Our overall average portfolio occupancy rate was more than 93%.
We continued to invest for the future. In addition to completing four new properties (three industrial and one multi-residential – The Livmore High Park in Toronto), we added almost $700M in new projects.
For residents and commercial tenants: At a time when homes became offices, extra health and safety measures were a necessity and many businesses and individuals faced hardship, meeting people's needs with empathy and creativity was the overriding concern.
Our residential team placed courtesy calls to more than 10,000 residents of our buildings to see how they were holding up and what more we could do for them. To help our small business tenants, we submitted applications to the Canada Emergency Commercial Rent Assistance program on behalf of about 470 companies, facilitating $12M in government subsidies for them.
Our rent deferral program supported close to 360 tenants and residents suffering financial hardship and provided $5.3M in deferred assistance.
For employees: While most of our employees transitioned to working from home, strict measures were in place to protect property teams who kept our buildings operating safely. We made a commitment to no COVID-19 related job losses in 2020 and gave employees extra paid days off, among other things.
Despite the disruption, engagement levels rose 15% from our previous survey, key training and development programs continued, and we reaffirmed our commitment to advance equity, diversion and inclusion within our own walls and in our industry.
For communities: GWLRA properties house businesses and retail stores, are homes to thousands of people, and contribute to sustainable cities and communities. One of our pillars of impact is the development of purpose-built rental buildings – so that people who need to, or would rather, rent still have great places to live. We closed 2020 with five multi-residential buildings under construction or in pre-construction, ultimately adding close to 1,600 purpose-built rental units in Vancouver, Toronto, Ottawa and Montreal.
Providing real solutions to environmental issues
Climate change: Since 2013, we have reduced the carbon footprint of our office and residential portfolios by 32%. At year-end 2020, 92% of buildings in our eligible portfolio (by floor area) had at least one green building certification (BOMA BEST® and/or LEED®). What's more, our managed portfolio achieved a sixth consecutive Green Star ranking from GRESB, the global ESG benchmark for real assets.
Protecting nature: We housed 2.65 million honeybees on the rooftops of 31 buildings in 2020 to arrest the decline in bee populations and spread awareness about the vital role pollinators play in maintaining biodiversity.
At a time when society needed companies to step up, GWLRA was there to help. Read our 2020 Annual Report to learn more.

GWL Realty Advisors
GWL Realty Advisors Inc. is a leading North American real estate investment advisor providing comprehensive asset management, property management, development and specialized real estate advisory services to pension funds and institutional clients. GWL Realty Advisors Inc. manages a diverse portfolio of office, industrial, retail and multi-residential assets as well as an active pipeline of new development projects.