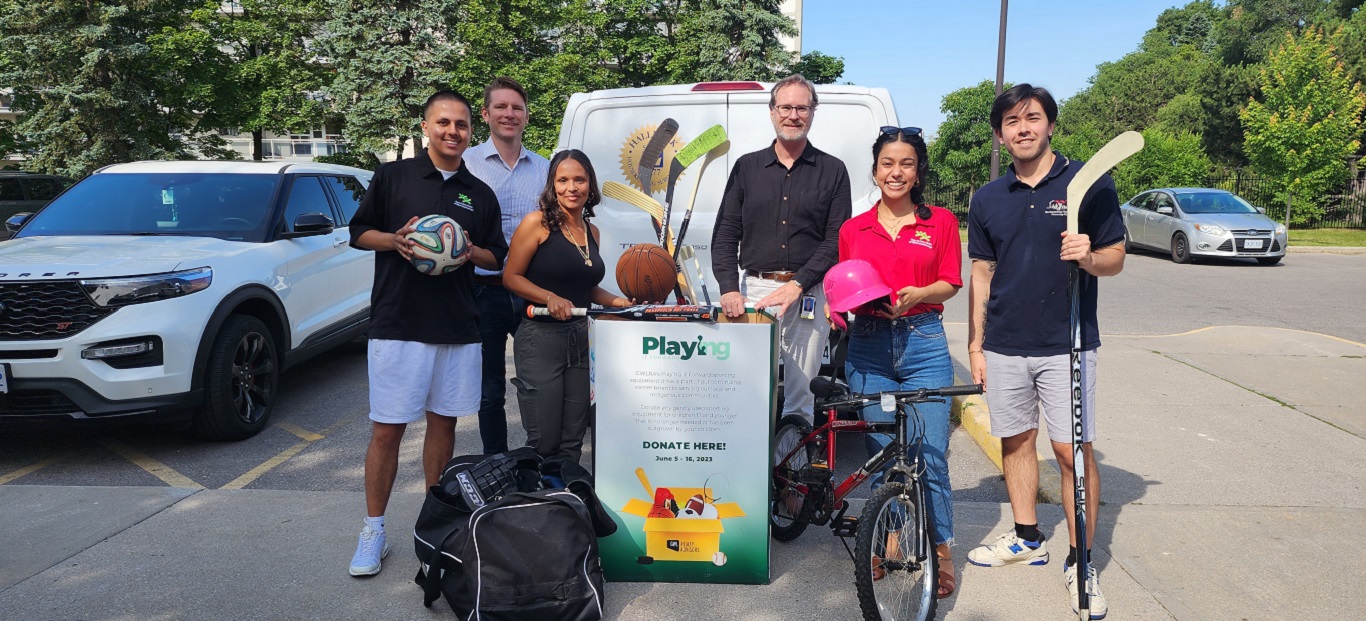 +
GWLRA Plays it Forward with National Sporting Equipment Drive
August 10, 2023
Earlier this year, the GWL Realty Advisors (GWLRA) embarked on an ambitious mission: to orchestrate a National Sporting Equipment Drive to collect gently used equipment for underprivileged youth across the country. The drive invited the generous participation of our employees, tenants, residents, and vendors.
"Having participated in several sports growing up, I know first-hand the benefits they can bring to families," said Glenn Way, President, GWLRA. "Unfortunately, one in three kids aren't registered in organized sports solely because of the cost. That's why we created this campaign – to support communities from coast to coast in a meaningful way."
During the month of June, the campaign was a success, showcasing the power of collective action. Thanks to our incredible community's generosity, we collected over 4,000 pieces of sporting equipment. The donations ranged from basketballs and footballs to tennis rackets, skis, bicycles, and other valuable pieces of equipment.
By donating all this equipment, we will be helping children facing financial barriers break through their constraints and experience the joy and health benefits of physical activities. Donations from the drive have already started creating positive ripples after being distributed amongst 10+ charity organizations across the country including KidSport Tricities, KidSport Alberta, Manitoba Aboriginal Sport & Recreation, Patrol Villeray, Indigenous Sport & Wellness Ontario, Boys and Girls Club of Eastview, Variety Village, and Sportwheels Excellence.
We asked the organizations above how the donations will impact their communities and were touched to hear the benefits:
"With over 250 kids a day coming through our doors for summer camp, it's no denying our sporting equipment takes a beating. We are so happy to be a recipient of donated sports equipment from GWL Reality Advisors and their clients, helping keep kids active and off the sidelines." - Chris Yaccato, Manager, Fundraising and Corporate Engagement, Variety-the Children's Charity Ontario

"[The donations] allowed us to have a few essential pieces of equipment we needed, but also provided two of our children with next-to-new bikes and a golf set for a young girl to get the opportunity to play alongside her grandfather. Thank you to all the wonderful staff and people who contributed." - Laurette Jack, Program Coordinator, Boys and Girls Club of Eastview

"We received incredible support from GWLRA; Sport Central was a beneficiary of their national equipment drive. Great community partners like GWLRA assist us in changing lives through sport! Our sincere gratitude." - Janna Tominuk, Executive Director, Sport Central Edmonton

"Over the course of 2023 we expect over 4,500 kids to come to the Calgary Flames Sports Bank to receive free sports equipment so that they can play the sports they love. This will amount to approximately 14,000 pieces of sports equipment! The GWLRA equipment drive brought in some much-needed equipment that some of our kids were waiting for. Thanks to this drive, we had just the right size hockey sticks for two young women starting their first year of hockey. Thanks to GWLRA for their amazing assistance." - Brody Norton, Manager, Operations and Outreach, KidSport Calgary
The heartwarming success of this drive could not have been achieved without our vendors: Hallmark Housekeeping Services Inc., Soundtex Interior Contractors, Western Electrical Management, Persimmon Contracting Ltd., and Panel Construction Ltd. Their selfless contributions of time, manpower, and vehicles played a crucial role in delivering the donations to the non-profit organizations.
We stand today incredibly proud of everyone involved. The GWLRA community truly came together, exemplifying a spirit of service and compassion. Together we are making a difference in the lives of youth across the country, instilling in them the strength and confidence to chase their dreams, no matter the obstacles.
We extend our heartfelt gratitude to all participants who have transformed our equipment drive from a campaign into a beacon of hope and a testament to what we can achieve when we band together. Here's to the power of community, and to creating more opportunities for all our children to play, grow, and flourish.

GWL Realty Advisors
GWL Realty Advisors Inc. is a leading North American real estate investment advisor providing comprehensive asset management, property management, development and specialized real estate advisory services to pension funds and institutional clients. GWL Realty Advisors Inc. manages a diverse portfolio of office, industrial, retail and multi-residential assets as well as an active pipeline of new development projects.