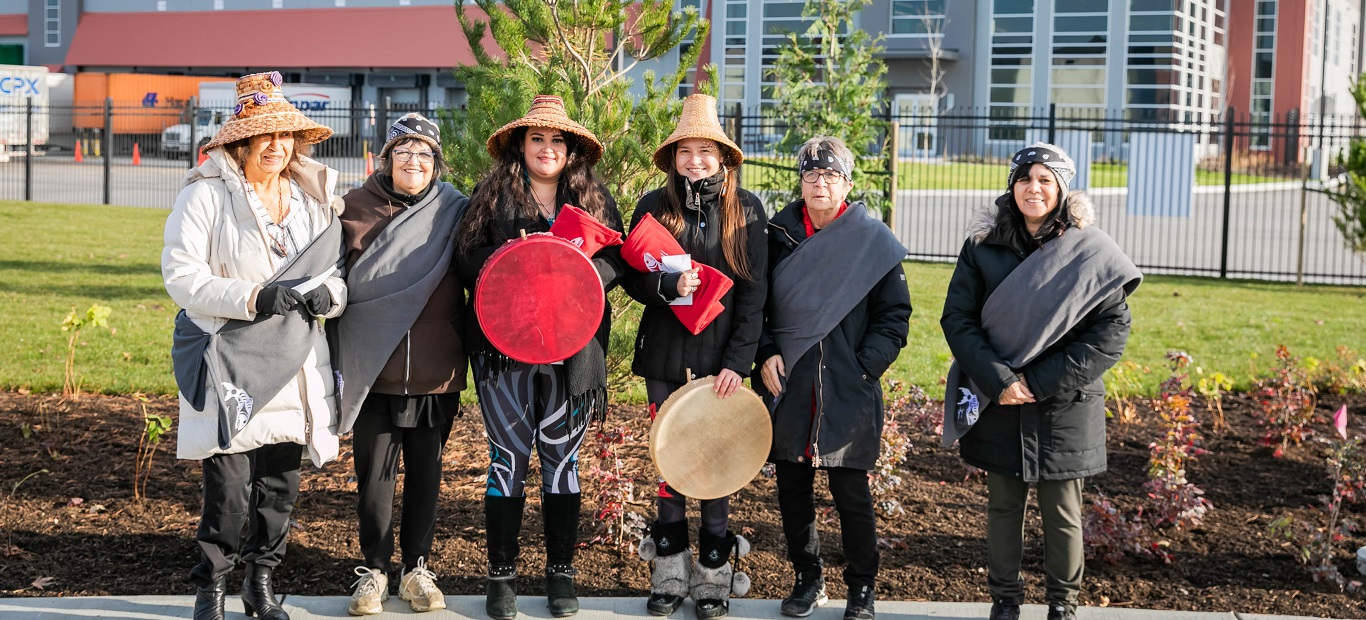 +
GWLRA Receives LEAP Community Impact Award for Delta iPort
June 7, 2021
On June 3, 2021, GWL Realty Advisors received a LEAP Community Impact Award from our client, the Healthcare of Ontario Pension Plan [HOOPP], for our role as the developer of Delta iPort, a market-leading, tier-1 distribution centre campus located in Metro Vancouver and built on land leased from the Tsawwassen First Nation, (TFN).
Now celebrating their 10th anniversary, the LEAP Awards were established to recognize development and property management partners' sustainability achievements and drive innovation and competition, with the Community Impact award going to a "property which has a strong community engagement program that has positively impacted the community."
Twelve years ago, the Tsawwassen People ratified the first urban First Nations treaty in British Columbia, which provides the TFN with municipal, provincial and federal types of jurisdiction over a land base of 724 hectares. To build on this foundation, TFN also established the TFN Economic Development Corporation to facilitate business relationships and develop Tsawwassen Lands economically, socially, and environmentally sustainable.
One of the most significant projects undertaken since the treaty's ratification has been the development and launch of the Delta iPort logistics centre, a ground-breaking project undertaken by HOOPP and GWL Realty Advisors, with TFN.
A successful engagement on a First Nation real estate venture requires understanding that profitability is only part of the equation. The First Nation's mandate may include governance, health, education, arts and culture and the economic, social and psychological well-being of members. This understanding guided the Delta iPort Project Team. They engaged directly with TFN's Chief and Executive while also building relationships with TFN members by participating in Town Halls and other community functions.
Throughout the initial discussion period, the Project Team worked to build trust and show how the interests of the project stakeholders aligned. After three years of talks and negotiation, TFN and HOOPP signed land leases for 57 acres, which provided the foundation for the 940,000 square foot Delta iPort project.
Key provisions within the land leases include supporting TFN members' education and skills development through internships. Additionally, the leases establish an employment liaison with tenants of Delta iPort and a cash contribution to a fund that the TFN will use to provide members with educational and economic opportunities in the years to come.
"We're honoured to receive this reward because it highlights the true value of the Delta iPort project," said Don Harrison, Executive Vice-President, Business Development and Client Services, GWLRA. "From concept through to completion, the foundation of the project's success was building trust with the TFN, not just project staff, but with elected leaders and members, and making it clear that our goal was a development that benefitted the community – now and for generations to come."
Designed for sustainability and flexibility, Delta iPort was developed on a speculative basis. The confidence of the project team was well-placed as Buildings 1 and 2 were both fully leased before construction was completed. Delta iPort is recognized as the premier Tier-1 distribution buildings in Metro Vancouver. This, along with its proximity to Deltaport, Canada's flagship container terminal, and major arterial roadways, led Amazon to select Delta iPort as the site of one of its major Lower Mainland fulfillment facilities in September 2018. The 450,000 square foot distribution facility, Amazon's first-ever on First Nation Lands, opened in 2019 and currently employs over 700 staff.
With both phases of the project now fully leased, Delta iPort is positioned to provide both the Tsawwassen First Nation and HOOPP with sustainable returns and long-lasting benefits. For GWLRA, the project serves as a compelling example of the value created when we put our vision – To be a sustainable company known for exceptional real estate management, trusted advice and outstanding service – into action.

GWL Realty Advisors
GWL Realty Advisors Inc. is a leading North American real estate investment advisor providing comprehensive asset management, property management, development and specialized real estate advisory services to pension funds and institutional clients. GWL Realty Advisors Inc. manages a diverse portfolio of office, industrial, retail and multi-residential assets as well as an active pipeline of new development projects.