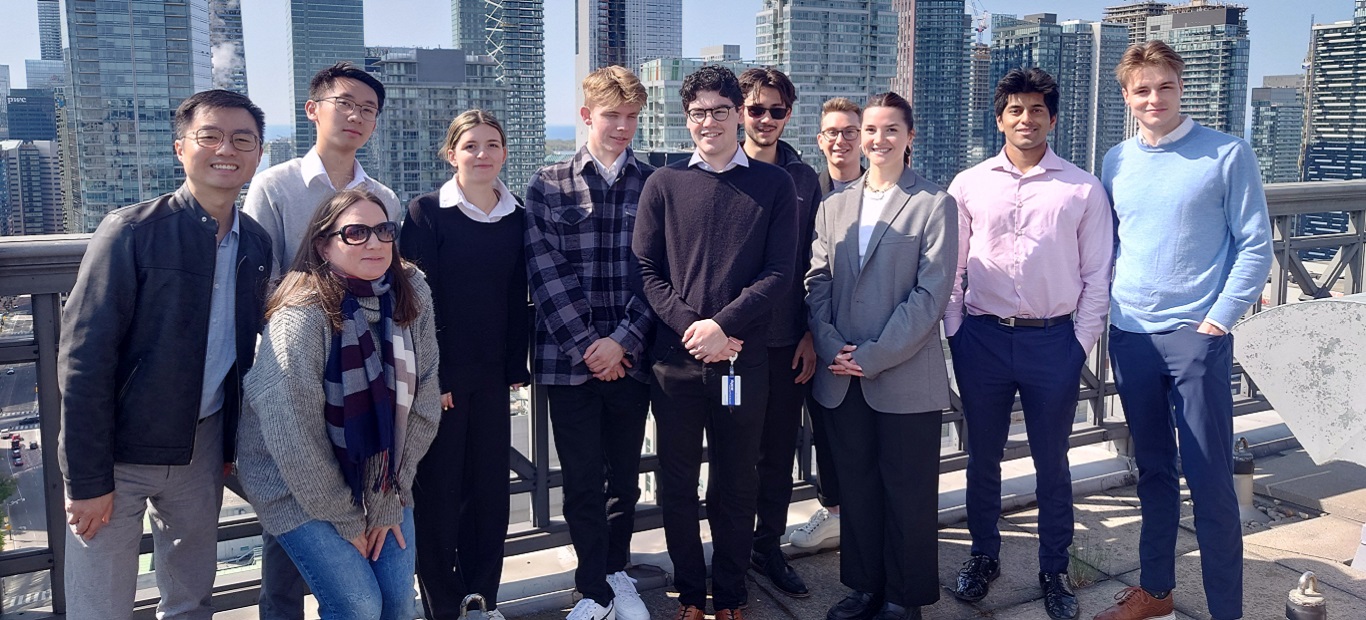 +
GWLRA Students Expand Their Skillsets Over the Summer
September 1, 2023
This summer, GWL Realty Advisors (GWLRA) was fortunate to welcome 18 summer students across a multitude of departments and regions.
We aim to provide students with hands-on experience through a variety of learning opportunities throughout their term here. Not only do they get to learn the fundamentals of their given department, but they are able network and learn about the industry through an array of offerings.
Shortly after their arrival in early May, our students are invited to an orientation session with several members of our executive team welcoming them to the team and offering them advice. Throughout the summer, our students are invited to take part in our staff socials to meet others in the company and learn about their roles.
Our students also toured several of our buildings over the last few months, which provided a first-hand view of what goes into managing our properties. These tours proved particularly useful for their multi-month case study project.
Every year, we split our students into groups and provide them with a departmental project to work on that utilizes several different skillsets. This summer, our Eastern Development team tasked them with supplying recommendations for amenities and in-suite features for a new multi-residential project. In early August, the students presented their findings to our Executive Committee who were impressed by their hard work and fresh ideas.
"The summer students' presentations were extremely impressive and well thought out. It was great to get the perspective of a younger cohort and the resulting creativity that transpired from it. A number of the presented ideas are being considered as part of our development programming for current and future projects." – Nik Parenta, Senior Manager, Development
We asked our students about their time at GWLRA and this is what they had to say:
"It was a pleasure to work at GWLRA over the summer. I learned a lot about the commercial real estate industry and being able to peer into what goes on behind the scenes was really insightful. Everyone was really supportive and welcoming, and I'll miss all of them. I'm truly grateful for the opportunity to have been part of GWLRA's 2023 Summer Student program." - Omar Ahmed, Asset Management, Mississauga

"The array of skills I've acquired during my time here is invaluable. From content creation to social media analytic tracking, I've grown holistically. The guidance of my mangers refined my leadership skills and the dynamic environment honed my ability to take ownership of major projects and help lead the team on social strategy." - Connor Crozier, Corporate Communications, Toronto

"Joining GWLRA this summer gave me a great opportunity to learn about real estate investment management at an institutional leader. The whole Asset Management team was welcoming, approachable, and always willing to offer guidance. Working on the Development Case Study was a great opportunity to meet GWLRA employees outside of the Asset Management team whilst expanding my skillset navigating ARGUS and getting the chance to build development pro-forma models. Standing in The Core and presenting our hard work to the executive team was the perfect culmination of a rewarding summer!" - Matthew Kirby, Asset Management, Toronto

"My overall experience at GWLRA was great this summer. Some of my favourite experiences were participating in Habitat for Humanity, attending office socials, and working alongside the EHS department. I learned a lot of skills this summer. Everything from new data manipulation to corporate etiquette. Another highlight was the case study. It provided a great learning experience and collaborative work for all the summer students." – Annwyn Murray, Environmental Health & Safety, Toronto

"I am truly grateful for the past summer in which I have gained vast knowledge in real estate accounting, working in the GWL accounting team at the Mississauga office. I have learnt core Yardi and property accounting skills, as well as created lots of memorable experiences with my fellow colleagues!" - Shaharyar Saleem, Accounting, Mississauga

"I deeply enjoyed my experience working at GWLRA this summer and found the experience extremely valuable. Having had the opportunity to work within leasing, asset management, marketing, and business excellence has exposed me to various roles within real estate and developed a multitude of skills. My highlight this summer would be my business excellence project where I analyzed a potential new revenue stream for industrial properties. The project involved me to contact external stakeholders and model financial projections. It was extremely rewarding to present my findings to senior executives and see my recommendation now being implemented across the country." - Andy Yang, Leasing, Mississauga
We thank our students for sharing their perspectives and skills over the course of the summer and wish them the very best in their studies.

GWL Realty Advisors
GWL Realty Advisors Inc. is a leading North American real estate investment advisor providing comprehensive asset management, property management, development and specialized real estate advisory services to pension funds and institutional clients. GWL Realty Advisors Inc. manages a diverse portfolio of office, industrial, retail and multi-residential assets as well as an active pipeline of new development projects.