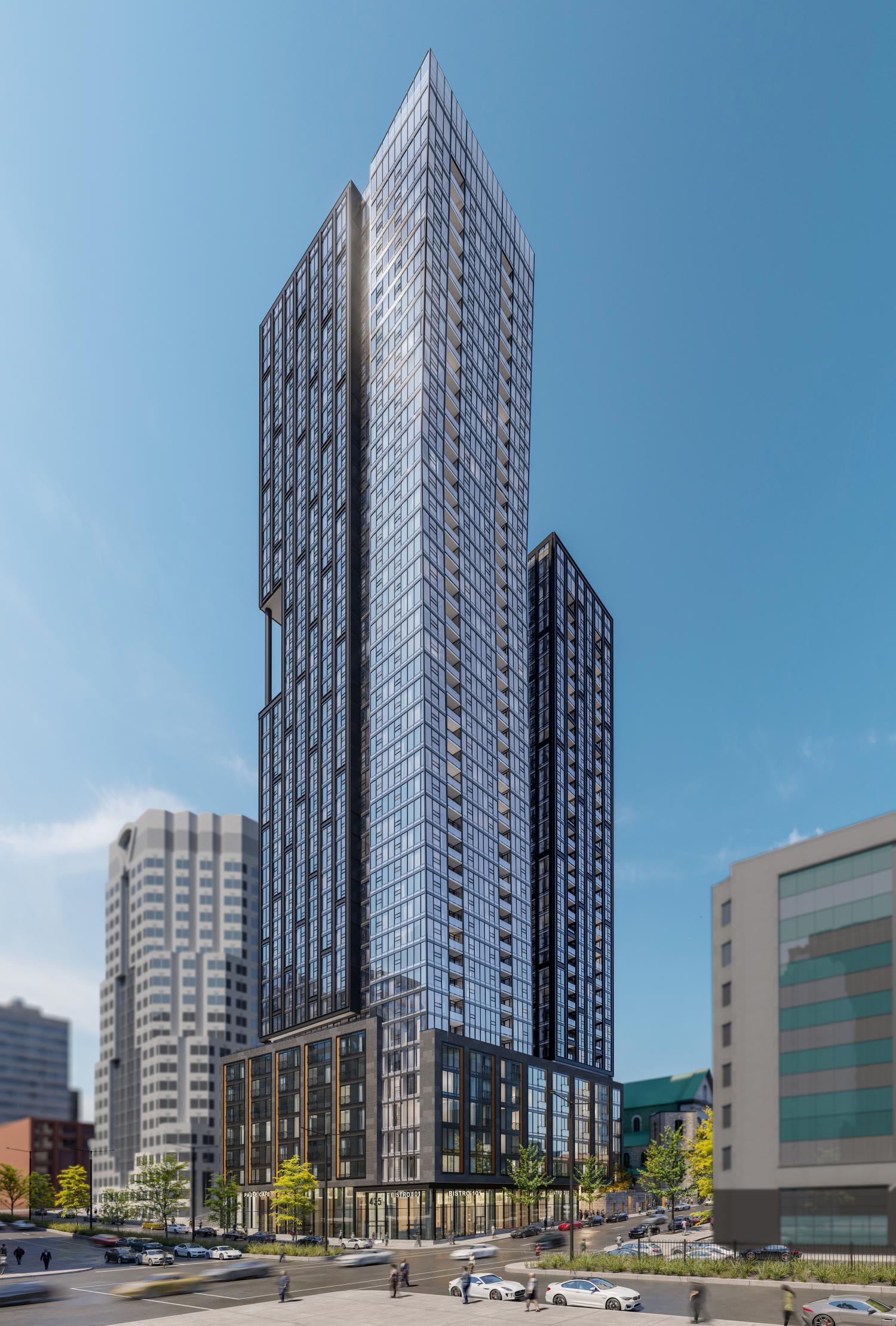 +
Le Livmore Ville-Marie by GWL Realty Advisors Starts Construction on Phase II Tower
September 21, 2023
Will add 424 new units to existing highly-amenitized multi-residential building
Montréal, September 21, 2023. . . GWL Realty Advisors (GWLRA) announced that it will start construction of a new 46-storey tower on the south side of its existing Le Livmore Ville-Marie residential community in downtown Montreal. Le Livmore welcomed its first residents on July 1, 2022, and currently houses approximately 600 residents in 396 units. The second tower is expected to be completed by July 2025 and will add 424-units as well as commercial space on the ground floor.
With each new residential development project, GWLRA continues to raise the standard for apartment living and Le Livmore is no exception. Located in the heart of Montreal at the intersection of Bleury Street and René-Lévesque Boulevard, the building features a stunning in-door pool, a 1930s speakeasy-inspired room, a wine cellar, a fireplace lounge, a dog run and pet spa, and a fitness centre. For residents who occasionally work from home, the building is equipped with a co-working space, which includes a mix of private offices, banquette-style work booths, and collaboration areas with open seating around large harvest tables.
"The Livmore brand of properties represent an important, yet historically underserved segment of the housing market," said Glenn Way, President, GWLRA. "Adding a 46-storey tower to our existing Le Livmore community fulfils our vision for this prime Montreal asset and confirms our confidence in the growing demand for high-quality, amenity-rich purpose-built rental properties in key urban markets."
Since 2018, GWLRA has added more than 1500 residential units under the Livmore banner. Combined with close to 300 units from other multi-residential development projects in British Columbia, the company has added over 1800 multi-residential units to the market. Approximately 1100 multi-residential units are in development which includes the addition of two new Livmore communities.
"Given the incredible uptake we had with the first phase of our Le Livmore development, we believe that the additional tower will appeal to those looking for an attractive, stress-free alternative to home or condominium ownership," explains Erica Penrose, Vice President, Multi- residential, GWLRA. "Looking ahead, we anticipate demand for high-end rental properties to continue to grow and we're looking at other opportunities to expand the Livmore brand into different communities, all while delivering on the promise of allowing residents to do more by living in well-managed buildings in amenity-rich, centrally located areas."
About the Livmore Brand
Launched in 2018, The Livmore brand was built on the premise that you can do more in life with the flexibility of a mortgage-free lifestyle. All Livmore buildings are centrally located next to amenities like transit, shopping, and restaurants with access to in-house best-in-class facilities. In addition, each Livmore building is LEED-certified and built to high safety, technology, and sustainability standards.
Today there are three Livmore communities, two in Toronto and Le Livmore in Montreal. The Livmore Westboro Village in Ottawa is scheduled for occupancy in winter 2024 and a fifth Livmore building is planned for Mississauga.
Cautionary note regarding Forward-Looking Statements
Certain statements in this news release constitute forward-looking statements. These statements include, without limitation, statements about the completion of future developments (including the timing of completion and occupancy) and the demand for high-end rental properties. Forward-looking statements are not historical facts but instead represent only GWL Realty Advisors' belief regarding future events, many of which, by their nature, are inherently uncertain and outside GWL Realty Advisors' control. It is possible that actual results will differ, possibly materially, from the anticipated results indicated in these statements. The reader is cautioned not to place undue reliance on forward-looking information. Other than as specifically required by applicable law, GWL Realty Advisors does not intend to update any forward-looking information whether as a result of new information, future events or otherwise.

GWL Realty Advisors
GWL Realty Advisors Inc. is a leading North American real estate investment advisor providing comprehensive asset management, property management, development and specialized real estate advisory services to pension funds and institutional clients. GWL Realty Advisors Inc. manages a diverse portfolio of office, industrial, retail and multi-residential assets as well as an active pipeline of new development projects.