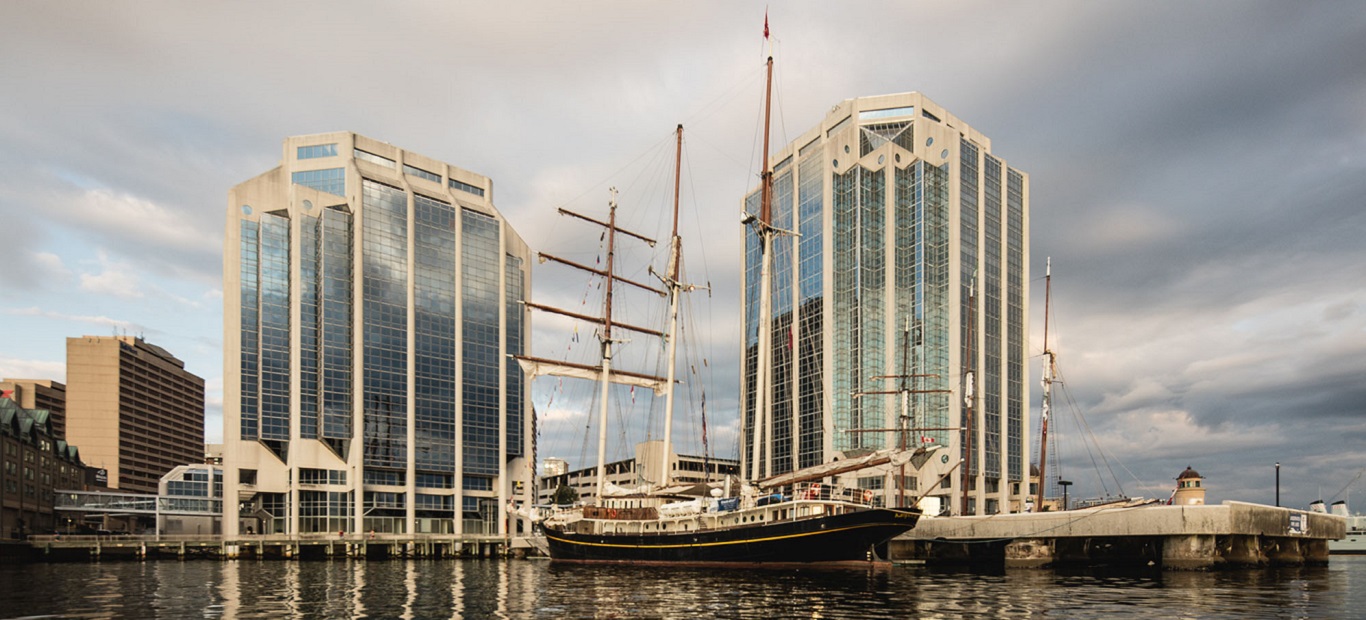 +
McInnes Cooper Commits at McInnes Cooper Tower – Purdy's Wharf
July 30, 2020
Halifax, Nova Scotia, July 30, 2020 - McInnes Cooper is pleased to announce its continued commitment to Purdy's Wharf on the Halifax Waterfront.
"We have made a significant investment in our Halifax office space to ensure we have a place where clients and employees enjoy spending time, and we will continue to call Purdy's Wharf our home as we move forward," said Kevin Kiley, Managing Partner, McInnes Cooper.
The decision to extend the firm's lease beyond 2030 with landlord, GWL Realty Advisors, will also see the tower the firm occupies renamed "McInnes Cooper Tower – Purdy's Wharf". "We are confident in the location and all that it presently has, and will in the future have, to offer. We are excited to put our name on it, "said Kiley.
Purdy's Wharf is an iconic part of the capital's striking skyline. It will benefit in the future from close proximity to Granville Park and the new neighbourhood born from the Cogswell District Redevelopment Project. Available tenant amenities such as onsite covered parking, access to transit, childcare and gym facilities are just some of the reasons McInnes Cooper is excited to continue its tenure at the Purdy's Wharf complex overlooking the Halifax Harbour.
"On behalf of the ownership group, we are thrilled to renew our relationship with McInnes Cooper at Purdy's Wharf and to rename the tower they occupy. Significant investment has been made to ensure this property remains a sustainable and captivating environment that is ahead in the marketplace," said Pascale Roy, Vice President, Asset Management, GWL Realty Advisors.
Having undergone a series of revitalization projects, including the addition of destination dispatch elevators and new HVAC controls for improved air quality, Purdy's Wharf continues to add value to the Downtown Halifax Business district.
About McInnes Cooper
McInnes Cooper is among the 25 largest business law firms in Canada and a member of Lex Mundi, the world's leading network of independent law firms. It serves clients across North America and abroad from six offices in Halifax, St. John's, Fredericton, Moncton, Saint John, and Charlottetown. With nearly 200 lawyers and over 200 professional resources, McInnes Cooper provides services to industry-leading clients in every major business sector and with experience in all jurisdictions.

Media Inquiries:
Angela Lewis
Managing Director, Client Development & Administration
(902) 457-5650

GWL Realty Advisors
GWL Realty Advisors Inc. is a leading North American real estate investment advisor providing comprehensive asset management, property management, development and specialized real estate advisory services to pension funds and institutional clients. GWL Realty Advisors Inc. manages a diverse portfolio of office, industrial, retail and multi-residential assets as well as an active pipeline of new development projects.