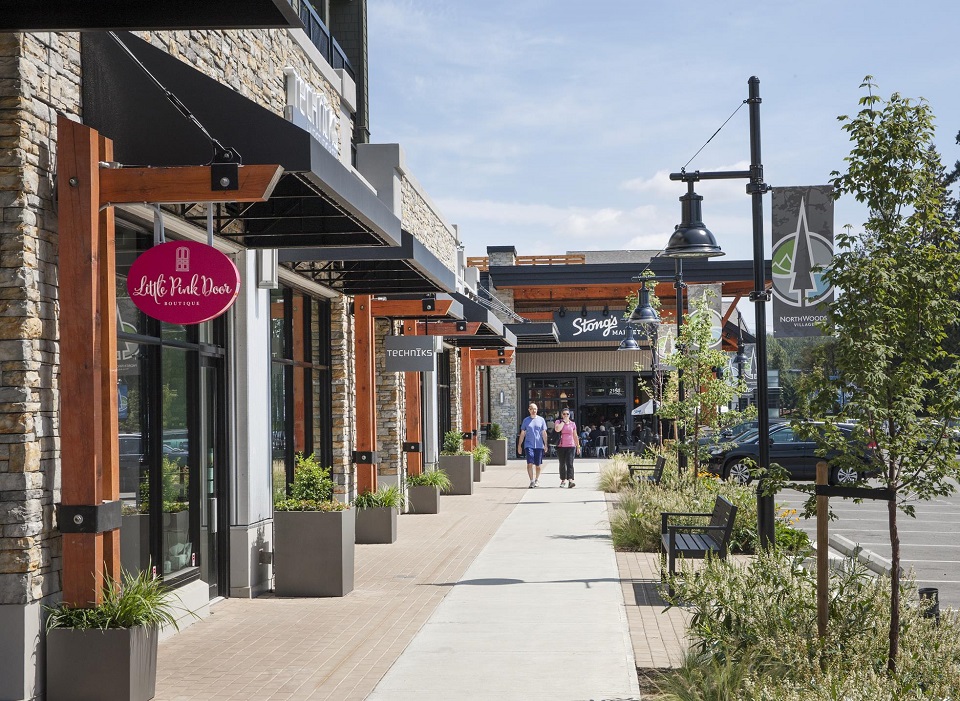 +
NorthWoods Village wins "Best Retail" at the Commercial Real Estate Awards of Excellence
May 23, 2018
Last week, GWL Realty Advisors was recognized at the Commercial Real Estate Awards of Excellence ceremony hosted by NAIOP Vancouver. NorthWoods Village, a mixed-use shopping centre won the "Best Retail" award. This award acknowledges the team responsible for negotiating the top investment transaction or development completed during the calendar years 2016 and 2017.
Located in North Vancouver, Northwoods Village comprises a shopping centre integrated with an 80-unit apartment rental building. The pedestrian-oriented village, anchored by a community grocer, and offering lifestyle businesses and other services, functions as a community gathering place and supports significant intensification and redevelopment of the surrounding residential neighbourhood.
In 2003, GWL Realty Advisors acquired 24 acres of industrial land on behalf of a client for the development of a multi-phase business park. In addition to formulating the initial development plan, we sought opportunities to enhance the value beyond our original underwriting. While developing Northwoods Business Park, a 320,000 square foot business park within six buildings and constructed in four phases, GWL Realty Advisors identified a lack of new housing and retail amenities in the immediate area to meet the demographics of the changing area. This evolving environment created the opportunity to re-envision the remaining undeveloped quadrant at Northwoods Business Park to allow for higher and better uses.
Accepting the "Best Retail" award was Geoff Heu, Vice President, Development and Michael Reed, Senior Development Manager at GWL Realty Advisors. Geoff Heu had this to say about the project:
"Our team is very proud of this achievement. It was an excellent effort by the entire GWL Realty Advisors team, and I want to thank them for their hard work and dedication throughout the development of this project. We're looking forward to continuing to complete similar multi-family rental and mixed-use projects for our clients in the future."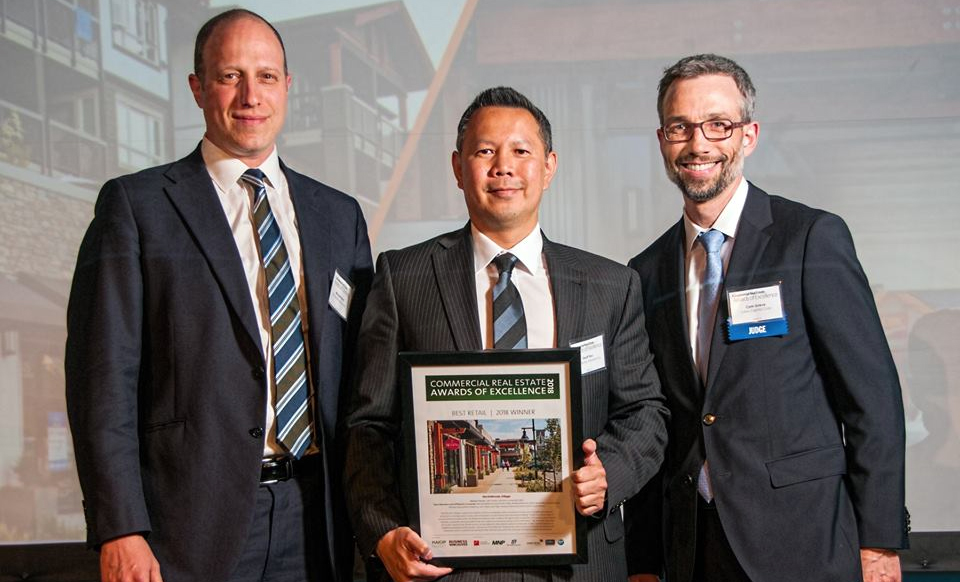 GWL Realty Advisors has earned a reputation as one of Canada's premier developers by securing and executing on a wide range of commercial, residential and institutional projects. A primary focus for us during in 2017 year was identifying and advancing development opportunities within our clients' existing portfolios. We closed 2017 with the teams in Eastern and Western Canada managing a total budget of over $2B, representing projects that are underway or planned.
Developed by GWL Realty Advisors, NorthWoods Village is now managed by QuadReal Property Group. For more information on NorthWoods Village, click here.

GWL Realty Advisors
GWL Realty Advisors Inc. is a leading North American real estate investment advisor providing comprehensive asset management, property management, development and specialized real estate advisory services to pension funds and institutional clients. GWL Realty Advisors Inc. manages a diverse portfolio of office, industrial, retail and multi-residential assets as well as an active pipeline of new development projects.