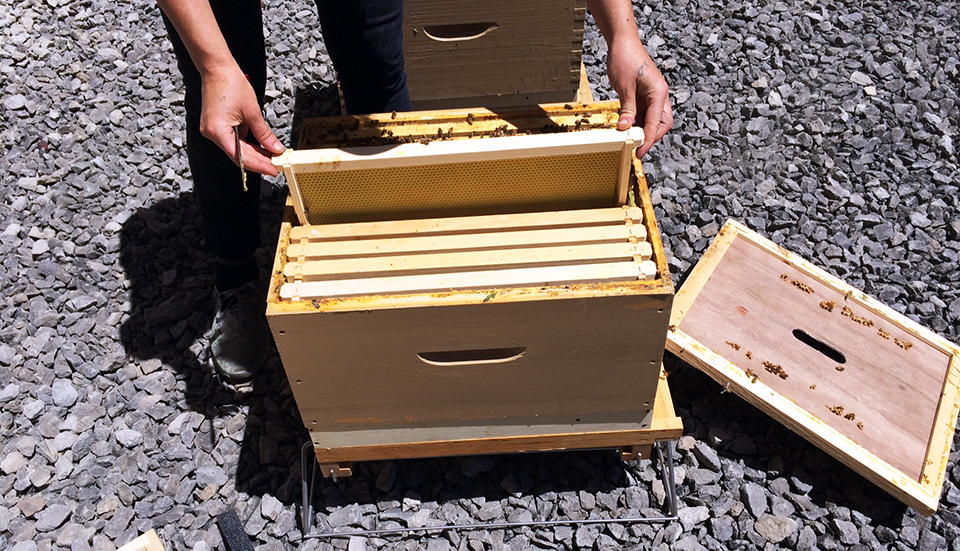 +
Release the Bees!
July 3, 2018
GWLRA is buzzing with excitement about its environmental initiatives.
In mid-June, GWL Realty Advisors welcomed thousands of tiny, buzzing tenants to our office at 33 Yonge St., Toronto. Two beehives were installed on the rooftop by Alvéole, an urban beekeeping organization based in Quebec, in part to support GWLRA's ongoing commitment to environmental sustainability. Alvéole will provide ongoing maintenance consisting of swarm prevention, preparation for harvest, inspection, harvest and treatment, feeding the colony, as well as readying the hive for winter.
Though bees may be small, their impact is far-reaching. Bees and other pollinators help many fruit and vegetable crops mature into food. According to The New York Times, as much as one third of all we eat is reliant on the hard work of these pollinators.
"We're thrilled with our new 'tenants' at various GWLRA locations," says Elizabeth Schreurs, Senior Director, Property Management at GWL Realty Advisors. "Given the current threat to the honeybee, the hive installation is a crucial step toward rebuilding those numbers and raising awareness. On top of that, we'll have our own GWLRA honey at the end of the season!"
GWL Realty Advisors works to limit its impact on the environment through reductions in energy, water, waste, and greenhouse gas (GHG) emissions. At year-end 2017, 89% of the eligible property portfolio had received one or more green building certifications, including BOMA Building Environmental Standards (BEST®), and Leadership in Energy and Environmental Design (LEED®).
GWLRA has installed eight additional hives on the rooftops of our properties. Toronto locations include 1 Toronto St., 4 King St. West, 330 University Ave., 5140 Yonge St., and Toronto College Park. The GWL Centre, Great-West Life's head office in Winnipeg, will also shortly receive two hives. Click here to learn more about how GWLRA is shrinking its environmental footprint across Canada.

GWL Realty Advisors
GWL Realty Advisors Inc. is a leading North American real estate investment advisor providing comprehensive asset management, property management, development and specialized real estate advisory services to pension funds and institutional clients. GWL Realty Advisors Inc. manages a diverse portfolio of office, industrial, retail and multi-residential assets as well as an active pipeline of new development projects.