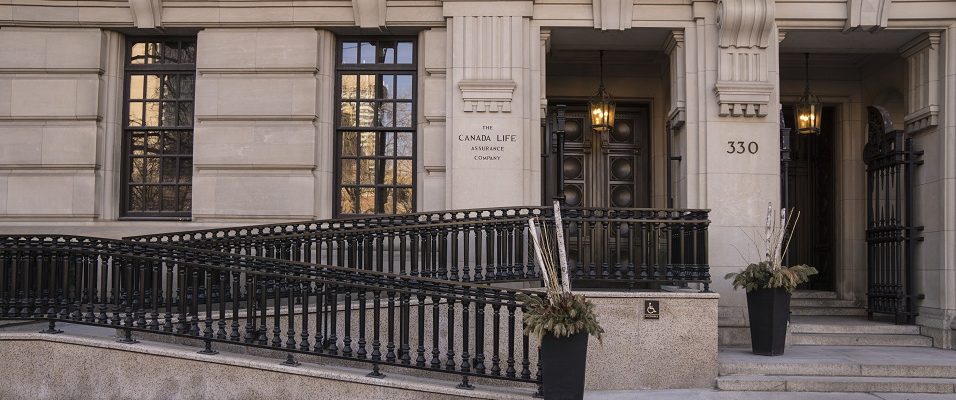 +
The Canada Life Building – An Enduring Historical Landmark
September 14, 2018
At a time when uncertain economic conditions were beginning to sweep the world, one building began to rise from the ground, making its mark as an enduring symbol of strength and hope. Construction on the Canada Life building began in 1929 – the dawn of the Great Depression – and was ultimately completed on March 16th, 1931. Today, the building remains a major landmark in the City of Toronto and a strong reflection of the company's mission to provide a better future for all.
In additional to its rich history, the Canada Life building is also architecturally significant. It once stood out as one of the tallest and grandest structures on the Toronto skyline. The structure is as impressive on the inside as it is on the outside, its lobby designed in the Neoclassical (Beaux-Arts) style with floors made of Italian marble. One of the most recognizable features of the building is its weather beacon, the oldest of its kind in the country. Since the early 1950s, the beacon has forecasted the weather using a simple light pattern, where flashing red means rain, flashing white means snow, solid red means cloudy, and solid green means clear skies.
Renovations were undertaken between 1994 and 1996 to preserve the building's heritage while incorporating 21st century efficiencies. Last fall, an accessibility ramp was added to the front entrance to meet the diverse needs of today's tenants, and to comply with Ontario accessibility legislation. GWLRA hired a heritage architectural consultant to perform a feasibility study in order to retain the look and feel of the original building. The granite for the ramp was sourced from a quarry in Massachusetts, while the railing bolsters were custom-poured from impressions of the existing black gates at the main entrance. The building is now fully accessible – and the ramp appears as though it was included in the original design nearly a century ago.
While the building focuses on serving its people and the city in which it resides, it has more recently undertaken another initiative – one that focuses on the environment. It is part of the joint GWLRA-Alvéole joint initiative to combat the decline of bee populations through the installation of beehives on top of several GWLRA properties. "We want to connect the people in the Canada Life building to these hives and to nature," said Blake Retter, Alvéole's Toronto director. Watch the full interview.
While much has changed since the Canada Life building was first created, one thing has remained the same: the company's commitment to forging ahead and providing a better future for all.

GWL Realty Advisors
GWL Realty Advisors Inc. is a leading North American real estate investment advisor providing comprehensive asset management, property management, development and specialized real estate advisory services to pension funds and institutional clients. GWL Realty Advisors Inc. manages a diverse portfolio of office, industrial, retail and multi-residential assets as well as an active pipeline of new development projects.