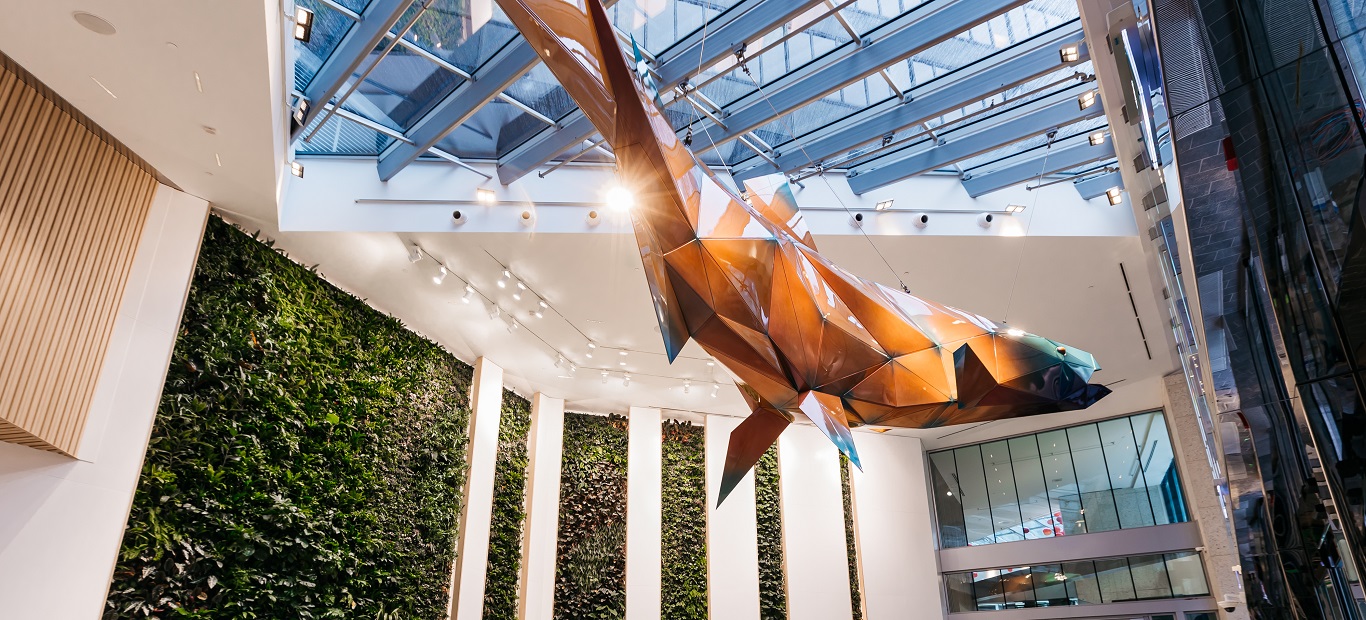 +
Vancouver Centre II Officially Opens in Downtown Vancouver
January 20, 2023
GWL Realty Advisors opens VCII office tower and introduces a major new public work of art by Douglas Coupland
Vancouver, BC; January 20, 2023 - GWL Realty Advisors (GWLRA) yesterday celebrated the official opening of Vancouver Centre II (VCII), a 33-storey AAA office tower at 733 Seymour in downtown Vancouver. GWLRA was joined by one of the project owners, the Healthcare of Ontario Pension Plan (HOOPP), and internationally acclaimed artist, Douglas Coupland, whose new work, Spawn, was unveiled as the centrepiece of VCII's stunning, light-filled public atrium.
"With the opening of Vancouver Centre II, we celebrate the evolution of the Vancouver Centre complex into an amenity-rich, spacious, and sustainable office development," says Glenn Way, Executive Vice President and Chief Operating Officer, GWLRA. "Together with our owners, we built a leading-edge smart and sustainable building that supports forward-thinking organizations that want to provide employees with inviting, engaging and comfortable spaces."
Located in the new core of the city's central business district, the Vancouver Centre complex includes VCII, Scotia Tower, and Vancouver Centre Mall. With its central location and its direct, underground connection to two SkyTrain lines, plus superior end of trip cycling facilities, EV charging, and Modo cars, VCII is a sustainable transport-supporting new-build office tower.
"HOOPP is focused on investing in high quality, sustainable buildings within our real estate portfolio, so we're delighted to be an owner of Vancouver Centre II, a state-of-the-art building with a world-class partner and manager in GWL Realty Advisors," says Eric Plesman, Senior Managing Director & Head of Global Real Estate, HOOPP. "We believe this amenity-rich, multi-purpose office tower is a great addition to the skyline of the growing and thriving City of Vancouver, and that it will deliver long-term value to our members, the healthcare workers of Ontario."
For VCII, GWLRA commissioned a work of public art from renowned Vancouver artist, Douglas Coupland. Spawn is a 30-foot stainless steel salmon that swims through the air above VCII's atrium. Coupland says, "mythologically, fish represent the soul. What is Vancouver's soul? We are lucky to live in the city we do, but it's a privilege, not a right to be here. Part of that privilege is a pact between us and nature - that we nurture it alongside our metropolitan lives, and that we never think of ourselves as being the more important side of the equation."
VCII is welcoming anchor tenants Kabam, Sandstorm Gold Royalties, Owen Bird, and PI Investments. Tenants have access to first-class amenities, including the 29th Floor Skyline Rooftop Deck and a private, state-of-the-art fitness facility with changerooms, showers, and end-of-trip cycling facilities. The building is dog friendly, and even boasts its own dog park. VCII is connected to Scotia Tower via a stunning public-atrium, to be enjoyed by all and programmed for special events.
VCII has been certified as SmartScore Platinum and WiredScore Gold, and the project team is also pursuing WELL Gold certification and LEED Platinum certification. As such, VCII is an industry leading building that offers occupants exceptional comfort, meets these standards of sustainability, and has advanced digital infrastructure and the capacity to meet the evolving needs of the future.
GWLRA developed VCII on behalf of the project owners The Healthcare of Ontario Pension Plan (HOOPP) and The Canada Life Assurance Company.
About HOOPP
HOOPP serves Ontario's hospital and community-based healthcare sector, with more than 620 participating employers and 420,000 active, deferred and retired members. It operates as a private independent trust and is governed by a Board of Trustees with a sole fiduciary duty to deliver the pension promise.    
HOOPP is fully funded and manages a highly diversified portfolio of more than $100 billion. It has a long track record of investing success, delivered by an in-house team of investment professionals.   
HOOPP's real estate portfolio has a market value of more than $20 billion, spanning multiple geographies and asset classes (office, logistics, retail, residential). The Fund continues to grow both the scale and scope of this portfolio, with a focus on high-quality assets and best-in-class partners that share our sustainable investing approach and creation of long-term value for our members. The real estate portfolio had a currency-hedged return of 8.3% over the past five years.   

GWL Realty Advisors
GWL Realty Advisors Inc. is a leading North American real estate investment advisor providing comprehensive asset management, property management, development and specialized real estate advisory services to pension funds and institutional clients. GWL Realty Advisors Inc. manages a diverse portfolio of office, industrial, retail and multi-residential assets as well as an active pipeline of new development projects.