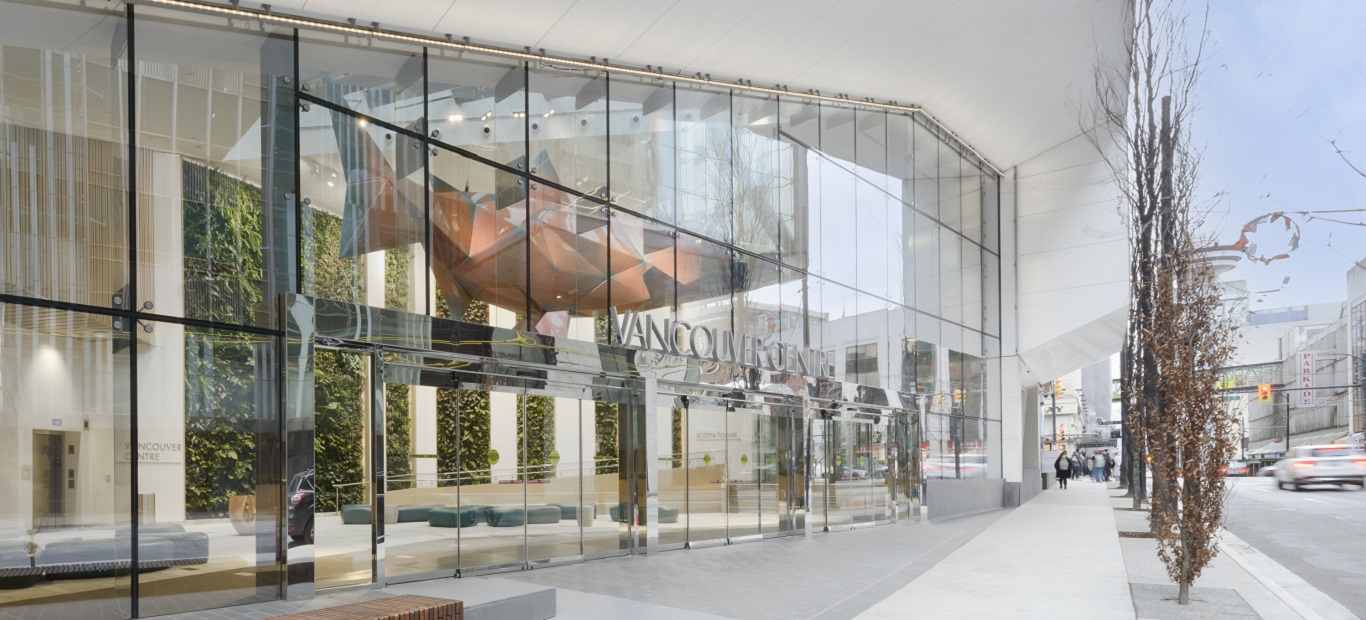 +
Vancouver Centre II Wins Most Intelligent Building Award
June 21, 2023
Toronto, June 21, 2023. GWL Realty Advisors (GWLRA) has won the award for the Most Intelligent Office Building for Vancouver Centre II (VCII), a 370,000-square-foot office tower developed on behalf of the Healthcare of Ontario Pension Plan (HOOPP) and Canada Life's Segregated Funds. It was awarded at Realcomm IBCon's Digie Awards ceremony in Las Vegas, Nevada on June 14.
Launched in 1999, the Digie Awards recognize outstanding companies, real estate projects, and technologies. The Most Intelligent Building Projects Awards go to extraordinary "buildings, projects and communities that best demonstrate smart, connected, high-performance intelligent building concepts."
Designed for the Future
VCII is a 33-storey AAA office in the heart of the city's central business district. The building's design reflects a commitment to energy efficiency and tenant wellness. It also features a wide array of amenities, including a fitness centre, a tenant-only dog park, and a rooftop deck with sweeping views of the city and surrounding mountain ranges.
"Creating a cutting-edge office tower both from a sustainability and technological standpoint was top of mind for us throughout the development process," said Geoff Heu, Vice President, Development, Western Canada. "By designing the building to achieve the highest levels of building certifications, including LEED Platinum, WELL and WiredScore, we set the bar for new office buildings in Vancouver and across Canada, and we thank our co-owners for their support throughout the process."
The development process for VCII was unique in that the new structure had to be integrated with the existing 40-year-old Vancouver Centre I (VCI) tower beside it. Now, the buildings are interconnected through a 4,000-square-foot atrium that includes a spectacular 320-foot art installation created by renowned artist Douglas Coupland and a 30-foot-high green wall.
Leveraging Technology to Improve Operations and Tenant Experience
VCII's comprehensive technology design allows our Operations team to view the status of critical equipment and infrastructure and to monitor sustainability performance in real-time, aiding in the day-to-day management of the building.
The building's technology stack integrating 16 different cloud-based and on-premises systems helped cinch the award in a crowded field of more than 20 nominees. The integrations - which include electricity, thermal, and water meters, occupancy sensors, elevator systems, EV charging stations, and more - create an optimal experience for our tenants and allow our team to have better visibility into all aspects of building operations via the Building Intelligence platform.
The integrated technology stack also enables an enhanced digital tenant experience via a mobile app that can be used by tenants to access the building, call elevators, see amenity occupancy and make bookings, check the status of EV charging stations, and receive communications from the property team.
The technology architecture developed for VCII is designed to scale up the building intelligence platform and the tenant experience platform, which will enable the property team to deliver operational and sustainability benefits across both towers in the future.
About the Digie Awards
Realcomm | IBcon has been presenting the Commercial Real Estate Digital Innovation (Digie) Awards since 1999 to recognize outstanding companies, real estate projects, technologies and the next generation of smart, connected, high-performance, intelligent building systems. The Digies are also awarded to the individuals who have gone "above and beyond" to impact our industry positively and to the innovators who are improving our buildings, portfolios and cities by applying technology, automation and innovation.

GWL Realty Advisors
GWL Realty Advisors Inc. is a leading North American real estate investment advisor providing comprehensive asset management, property management, development and specialized real estate advisory services to pension funds and institutional clients. GWL Realty Advisors Inc. manages a diverse portfolio of office, industrial, retail and multi-residential assets as well as an active pipeline of new development projects.