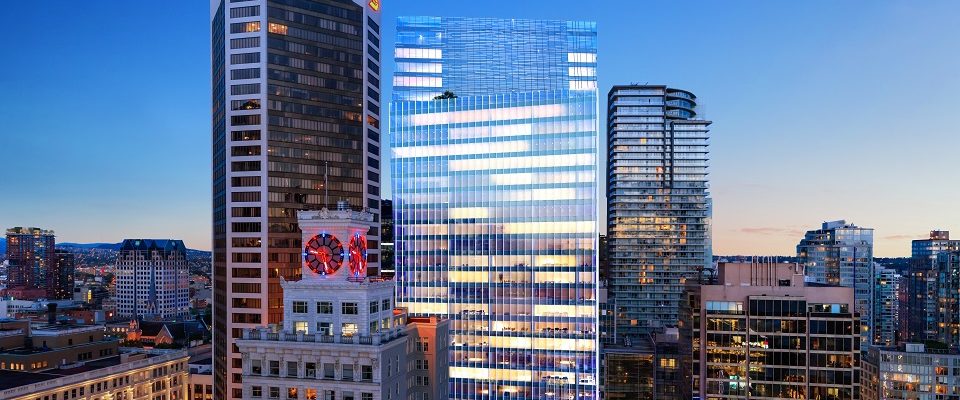 +
World Leading Mobile Game Developer Kabam to Expand North American HQ with Lease in Vancouver Centre II
November 22, 2018
Kabam set to lease 105,000 square feet in cutting-edge Vancouver office tower
Vancouver, BC; November 22, 2018 – Vancouver-based mobile game developer, Kabam, today announced the next phase of its growth with the long-term lease of 105,000 square feet across seven floors at Vancouver Centre II (VCII). The project, which is being developed by GWL Realty Advisors, has a targeted completion date of 2021. VCII will be the first office tower completed in the current cycle of downtown office development.
Kabam is excited to collocate into one unified, agile work environment. The company thinks the amenities are fantastic, and they know their four-legged team members will be excited to have a special place to enjoy as well.
"Kabam is exactly the kind of forward-thinking, industry-leading firm we had in mind when we designed VCII," says Geoff Heu, Vice President, Development – Western Canada, GWL Realty Advisors. "With VCII's premier location in the downtown tech hub and its direct connection to two transit lines, it's not surprising the building is already one-third leased before excavation is even complete. With the current exceptionally low office vacancy rate of 3.9 per cent, we are confident that VCII will be fully leased prior to completion."
Founded in 2006, Kabam has become a global leader in multi-player mobile games with blockbuster releases such as Marvel Contest of Champions, which has had more than 168 million downloads worldwide since 2014. With over 400 employees across its Vancouver, San Francisco and Austin offices, Kabam sees Vancouver as a key part of its long-term expansion plans.
As VCII's lead tenant, Kabam will have access to first-class amenities, including the 29th Floor Skyline Rooftop Deck; a state-of-the-art fitness facility and yoga studio; end-of-trip cycling facilities; and dog-friendly facilities. The project is targeting LEED Platinum certification and is registered with the International WELL Building Institute™. VCII's Wired Certification will ensure it has the digital infrastructure to addresses the advanced technology needs of today and the capacity to upgrade to meet future needs.
Kabam's quest for a new location was driven by its long-term growth plans. After partnering with Colliers International to determine key criteria, it became evident that Kabam's property search should be driven by the needs of current and future employees. Following a comprehensive review of available properties, Kabam found that VCII checked more boxes than any other offering and met the most important criteria for supporting Kabam's team and their long-term growth for years to come.
"We were thrilled to be able to assist Kabam with such an exciting project, and we're happy to have found a great option like VCII," says Matt Carlson, Vice President, Colliers International Canada. "It was also very refreshing to see Kabam's leadership take an employee-first approach, by asking what their real estate can do to improve the overall workplace experience for their team, and how they can attract and retain the best talent in the industry."
When complete, VCII will sit squarely in the middle of Vancouver's new commercial office district, which has shifted east in recent years. GWL Realty Advisors is developing VCII on behalf of owners: The Healthcare of Ontario Pension Plan, the Great-West Life Real Estate Fund, and London Life Real Estate Fund.
To learn more, visit http://www.vancouvercentre.com.
About Kabam:
Kabam is a world leader of massively popular multiplayer games for mobile devices. High quality graphics and next generation technology are the hallmark of Kabam games. The company merges the art of game design and the science of consumer behavior to create immersive games enjoyed by millions of players around the world.
Kabam has partnered with leading entertainment companies with iconic franchises such as Marvel, Disney, Hasbro and Universal. Kabam's games have generated hundreds of millions of downloads including: Fast & Furious 6: The Game, Fast & Furious: Legacy, Marvel Contest of Champions and Transformers: Forged to Fight. These games have also received multiple awards such as Apple's Editor's Choice and Google Play's Best Game of the Year.
Founded in 2006, Kabam has studios and offices in Vancouver, San Francisco, California, and Austin, Texas. Kabam is a wholly-owned subsidiary of Netmarble Corporation.
Media contact:
For GWL Realty Advisors :
Simone Abt | Elettra Communications
C: 604 512 8714 | simone@elettra.ca
For Kabam:
Eva Phung
office@kabam.com

GWL Realty Advisors
GWL Realty Advisors Inc. is a leading North American real estate investment advisor providing comprehensive asset management, property management, development and specialized real estate advisory services to pension funds and institutional clients. GWL Realty Advisors Inc. manages a diverse portfolio of office, industrial, retail and multi-residential assets as well as an active pipeline of new development projects.