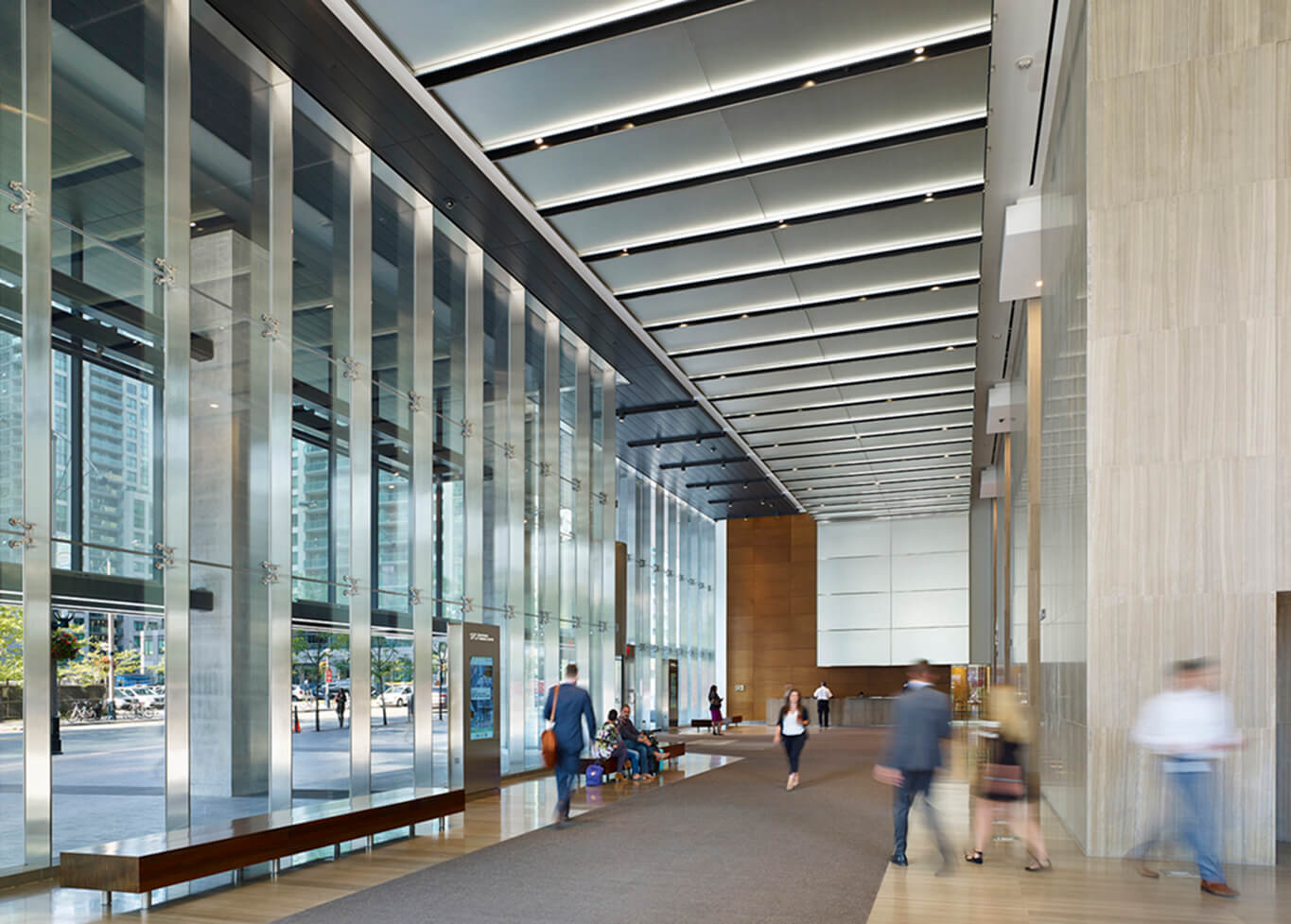 Southcore Financial Centre
Location: Toronto, Ontario
Asset class: Mixed-use
Project size: 1.4M sq. ft.; 567-room flagship Delta Hotel
Green certification: LEED® Gold certified office space in two towers
The challenge
Acquired in 2006, the development site at 18 York St., south of the financial core, was considered to be "fringe" for an office development and posed concerns about the building's ability to attract core tenant users.
The opportunity
In 2007, Phase I began after securing PwC Canada as its anchor tenant. Following a notable increase of leasing activity in this emerging node, the remainder of the block to the west was acquired in 2009 and zoned for residential and hotel use (Phase II). Delta Hotels & Resorts was secured as operator for what would be their Canadian flagship hotel and centerpiece for their new brand. Control in ownership over the entire block allowed for flexibility and integration of a seamlessly connected complex.
The approach
GWL Realty Advisors successfully rezoned the Phase II lands to commercial use, added 400,000 square feet of density through a streamlined minor variance approval, and received development approval for both the office tower and the hotel. The complex was developed in two phases over eight years, involved various stakeholders, and required ongoing negotiations to meet client and project objectives.
GWL Realty Advisors worked seamlessly with city staff, economic development and neighbouring property owners to secure agreements and approvals to facilitate a project of this magnitude.
The result
Southcore Financial Centre is now a premier mixed-use complex connected to the financial core, PATH, abundant amenities and public transit. It is comprised of 1,366,500 square feet of office space in two new-generation office towers with efficient floor plates and sustainable features which enhance the marketability of the complex and lowered its operating costs. The hotel is a flagship 567-room Delta with a full-service restaurant, meeting rooms, fitness facilities and more.
The benefits
Added an entire city block of high-quality, sustainable, Class A product to the client's portfolio.
Contributed outsized returns and financial performance. Significant value was created for the owner.