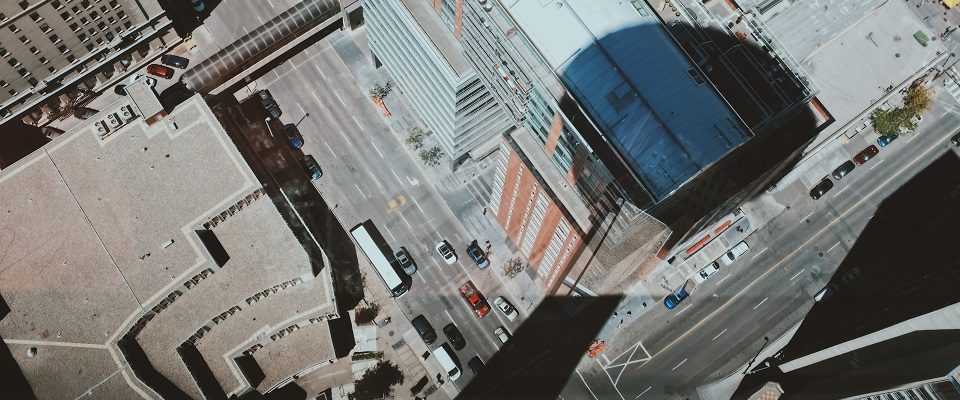 Calgary – Opportunity in a Slow-but-steady Recovery
September 14, 2018
Calgary's Downtown office market and its vacancy level near 27% absorbs the headlines and much of the oxygen in investment real estate discussions. Yet, there is a larger story in Calgary.
The Calgary economy saw growth return in late 2016. Since the downturn the Labour Force Survey has jobs up by approximately 30,000, although there has been a drop in employment in recent months (primarily in categories associated with self employment and contract work). The most recent payroll data suggests continued hiring. A gradually diversifying economy including strong gains in the logistics sector has been key to growth. Higher oil prices have also supported a modest rebound in energy sector jobs.
Indicators for industrial, retail and rental apartments are solid or gradually strengthening. Calgary may once again be a land of opportunity—although the investor may need more patience and lower capital gain expectations than in the past.
Retail sales are above pre-energy-downturn levels in Alberta, key to shopping centre revenues (Figure 1). Calgarians have high levels of disposable income relative to other Canadians (Figure 2), even if levels are off their peak. And they are again spending on restaurants and consumer goods—a good indicator for the retail asset class.
The robust retail sales of the past few years in BC combined with the steady retail spending by Albertans has supported the Calgary logistics sector. Western Canada distribution is based in Calgary for many retailers and their suppliers. This has generated solid absorption in industrial real estate, lifting occupied space to all-time highs (Figure 3), and has brought cap rate compression for investable assets.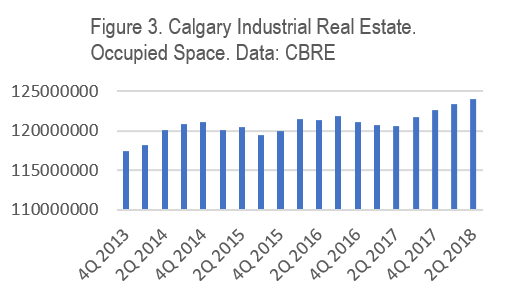 Finally, a younger population and renewed positive domestic migration flows has increased demand for rental apartments.
In Calgary's dynamic Beltline neighbourhood, the vacancy for newer apartments fell to 2.6% despite a wave of new rental buildings opening in 2017 (CMHC). This helps illustrate pent-up demand for new generation rental homes in professionally managed buildings, especially those in walkable amenity rich locations with modern features ranging from in-suite laundry and open-plan kitchens to stone-counters and plank floors.
Further supporting apartment demand, Calgary has the lowest level of purpose built rental units per capita in Canada at 2.6 units per 100 people, while Toronto and Vancouver have 4.9 and 4.2 respectively. In fact, Calgary's inventory today is 9800 units below 1990 levels, despite the population having doubled (Figure 4).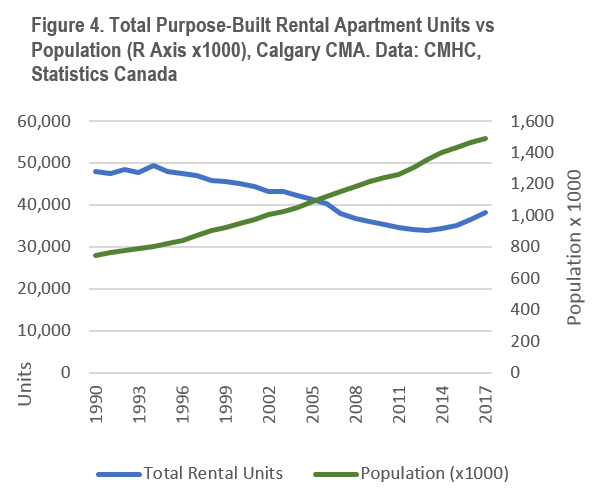 For these and other reasons, GWLRA has been actively acquiring rental development sites for clients, as well has purchased retail and industrial assets in recent months.

Wendy Waters
Vice President, Research Services & Strategy
Leading the national Research and Strategy team, Wendy's responsibilities include providing economic, demographic and market-trends analysis to support long-term asset acquisition, development and management strategies. Wendy has been working in real estate research since 2002, including over a decade with GWL Realty Advisors. She holds a Ph.D. in comparative-world and economic history from the University of Arizona.