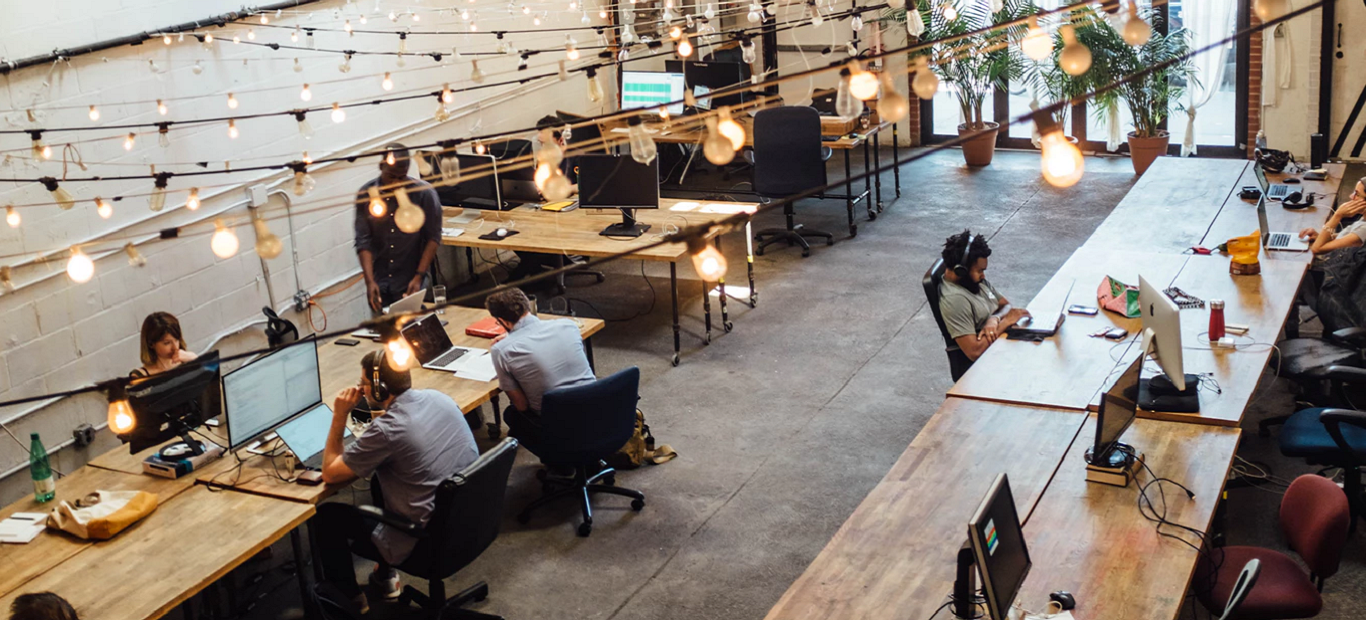 Coworking: The Fastest Growing Office Tenancy
July 10, 2019
Coworking—the 21st century version of packaged or shared office space leased on flexible terms—is the fastest growing office tenancy in North America and likely globally. In the second half of 2018 coworking represented 50% of net absorption in the US, according to JLL. In Canada, Vancouver already has among the highest—if not the highest—coworking penetration at 2.8% of the core office market (according to Avison Young calculations) with lease commitments that will bring this closer to 3.5%. Manhattan has the highest rate in the US at 2.8%.
Coworking companies until recently have struggled to expand in Toronto owning to the tight office vacancy; in mid 2018 Coworking occupied only about 1% of the office market however that has since grown to closer to 2% based on new numbers from Cresa Partners. And when the new office inventory opens in Toronto, Toronto should see similar percentages of coworking tenancies as other major North American markets.
Origins and The Offering
Coworking (under this name rather than "packaged office") originated to aggregate freelance technology sector workers into actual office space, rather than their homes or coffee shops. By providing hassle-free WIFI and Ethernet, printers, video conference rooms, and technology-enabled meeting space—along with quality coffee, snacks and even beer—coworking companies drew in freelancers from all sectors along with contract employees, and some small outposts of larger firms (such as a three-person sales or service office). Since then, it has evolved. Freelancers are now less than half of coworking users according to the DeskMag Survey.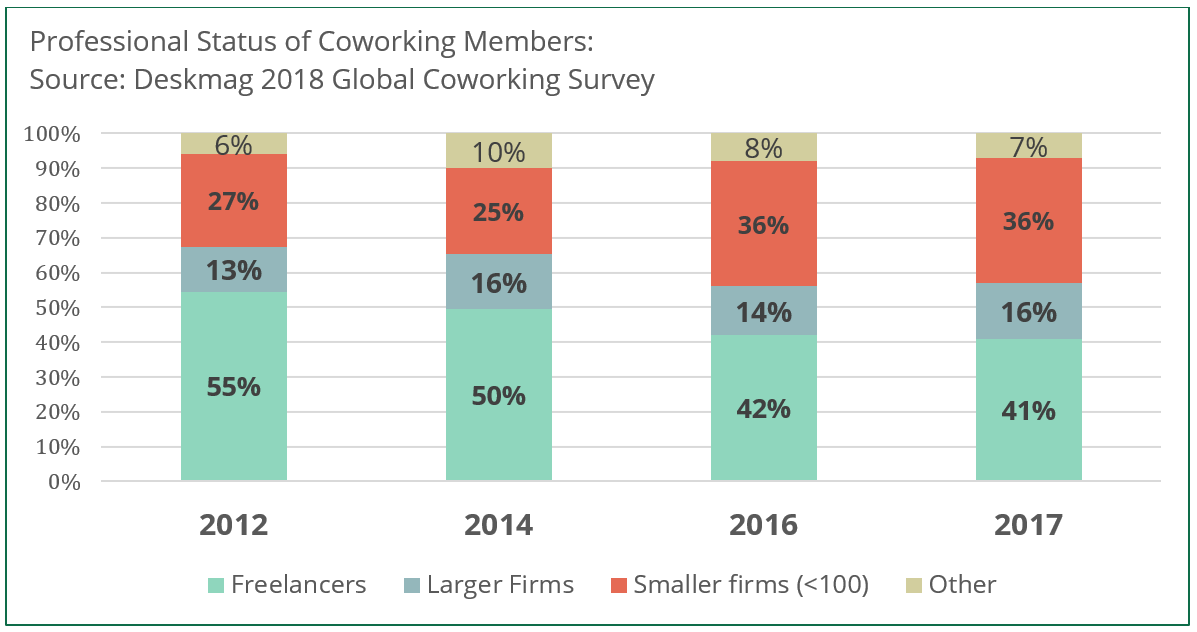 Increasingly popular with all sizes of companies
Small businesses and larger fortune 500 sized companies now fill more than half of space, especially in the larger brands such as WeWork and Spaces. For start-up companies, coworking offers turn-key, flexible office space that can grow or contract with the company—quite different from a traditional lease. For larger firms, coworking provides overflow space when growth has exceeded office capacity—often while awaiting the construction or build-out of new office premises--and project space to relocate a team to focus on one contract or challenge. Coworking also offers some global firms a hassle-free way to enter a new city and test the talent market. And, the increased hospitality and service and most coworking also attracts and retains workers.
Looking ahead
For these reasons above and many more, GWLRA Research believes the coworking phenomenon will continue to be a part of the office scene for years to come—although consolidation of providers as well as evolution in service offerings is likely as this industry matures. As a final thought, coworking has provided some intriguing lessons for office building owners and managers about the evolving ways tenants and employees want to work, and how an office space can adapt to better suit these trends.
For more information on Coworking, see our report published in the PREA Quarterly
*DeskMag, Ultimate Coworking Space Data Report. 2018.

Wendy Waters
Vice President, Research Services & Strategy
Leading the national Research and Strategy team, Wendy's responsibilities include providing economic, demographic and market-trends analysis to support long-term asset acquisition, development and management strategies. Wendy has been working in real estate research since 2002, including over a decade with GWL Realty Advisors. She holds a Ph.D. in comparative-world and economic history from the University of Arizona.