Diversification in Real Estate: A Canadian Perspective
March 8, 2017
Diversification in commercial real estate typically means investing across markets with different economic and capital market exposures. How does this apply to the Canadian marketplace?
Over the last several years, a notable trend has been how similar real estate investment performance has been across cities in Canada. As measured by the MSCI/IPD All Property Index (Figure 1), total annual returns across major Canadian cities have moved quite closely the last 15 years. All cities witnessed double-digit returns between 2004 and 2007, before declining rapidly during the onset of the Global Financial crisis. We then see broad-based recovery and growth from 2009 onwards as property markets stabilized.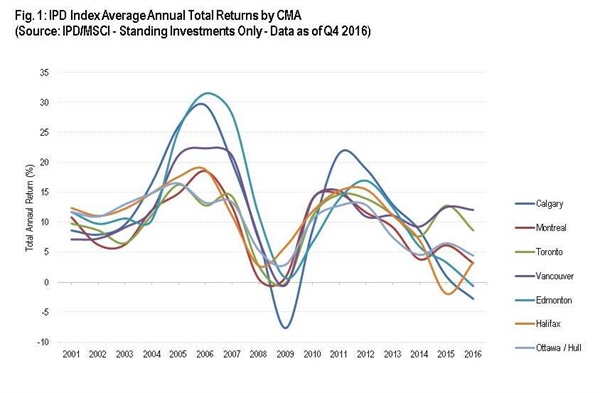 Accordingly, if real estate investment performance is so closely linked among different cities, are their still merits to diversification across Canada?
Unequivocally yes, and we offer two reasons why.
1. Despite markets moving closely together, there is still a wide gap in performance
While a macro-view on real estate performance highlights similar "ups and downs" across Canada, a closer analysis (Figure 2) reveals a fairly wide gap in performance year to year. For instance, in 2006, the worst performing market that year was Toronto at 12.7% annual return, compared to Edmonton at 31.6% suggesting nearly a 19% gap in total return performance. The same analysis in 2009 would show a 13.6% gap between the best (Halifax: 6.0%) and worst (Calgary: -7.6%) market that year.
Looking over the last 15 years, the average annual gap between the best and worst market is 10.4%. While a relatively simplistic way of looking at performance, it still serves to highlight the wide variance in returns across Canadian cities and the opportunity for above (or below) average performance over time.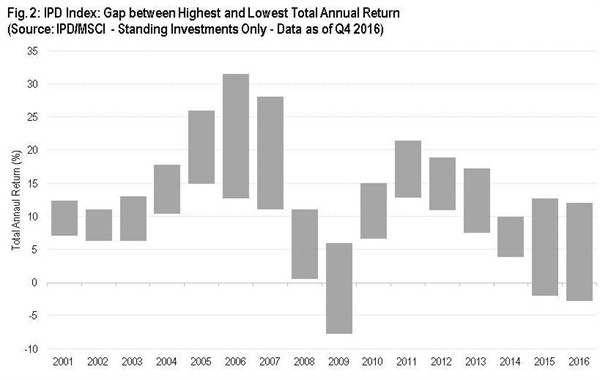 2. Not all market cycles are the same, and neither is the economy at the time
We also note that while real estate returns have moved in a similar pattern the last fifteen years, there have been times of divergence. For example, if we look back at Figure 1, we see that 2006 and 2015 marked years where returns varied significantly across Canadian cities. If we reflect on what was happening in the broader economy at the time, 2006 was a strong period of global energy and commodity demand and benefited real estate markets in Western Canada. Conversely, if we look back at 2015 we can see how the onset of the energy downturn led to isolated declines in Edmonton and Calgary given their large oil and gas exposure.
The key conclusion accordingly, is that a city's economic composition has significant influence on real estate investment performance and not all market cycles and economies are the same. For real estate investors, this means understanding the importance of real estate portfolio diversification and its larger economic influences.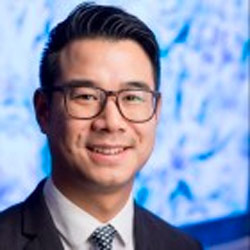 Anthio Yuen
Senior Director, Research Services & Strategy
Based in Vancouver, Anthio brings more than 15 years of experience to GWLRA's Research and Strategy team specializing in property market analysis, applied research and portfolio strategy. He has a Master's in Urban Planning and Development from the University of Toronto.