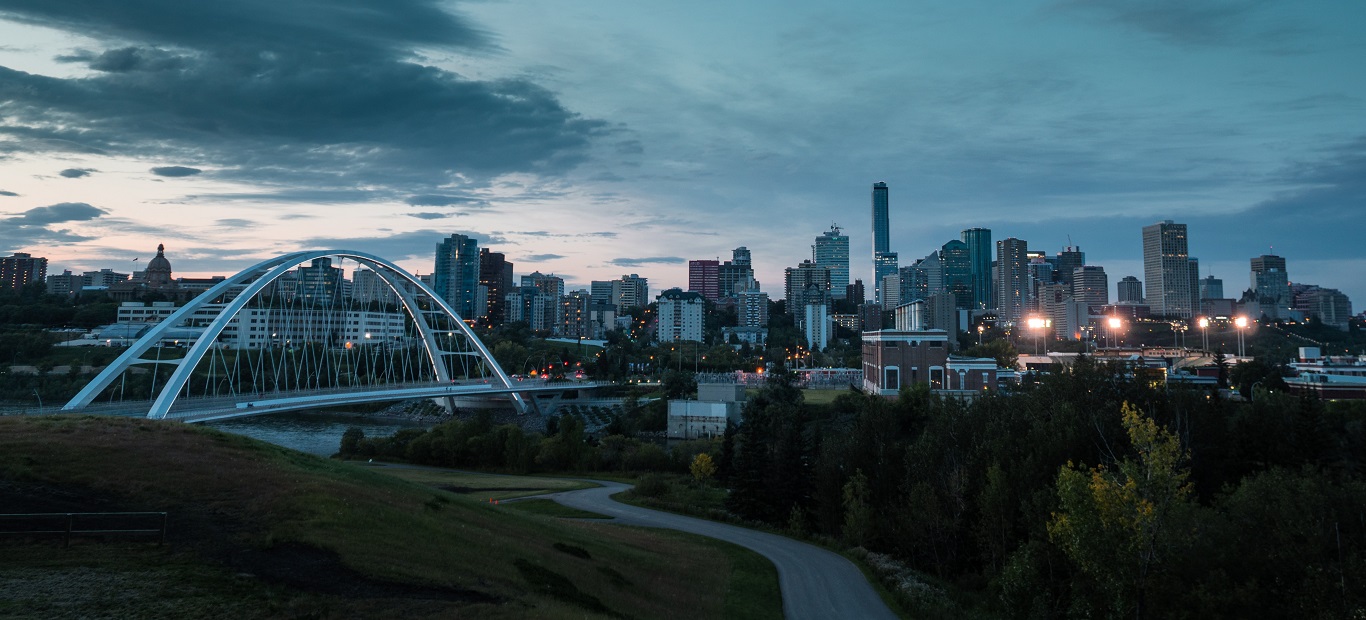 Edmonton and Calgary versus the US Energy Cities: How have they fared?
April 3, 2017
Calgary's employment situation has struggled since oil prices declined in late 2014. Overall employment in Edmonton initially held up on the strength of public sector hiring which is now easing causing the energy sector decline to be felt in stronger force.
The downturn has been unevenly felt in North America's other energy cities. As the job chart (Fig. 1) illustrates, Austin and Dallas have seen virtually no change to their job growth trajectory, and Denver's has only slowed slightly. By contrast, like Calgary and Edmonton, Fort Worth and Houston have seen more sluggish job conditions.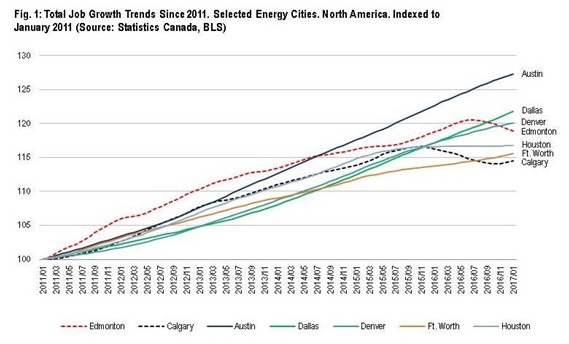 What is different about Austin and Dallas?
One answer: the diversity of their economies and the strength of their information technology sector. The better performing energy cities have high concentrations of both natural resources jobs and Information sector jobs, as measured by location quotients (Fig. 2). It appears that these cities were able to benefit from the strong knowledge economy and technology sector hiring over the past few years that coincided with the energy downturn. Those cities struggling have low information technology location quotients; however, we do not believe this tells the whole story.
For example, we wonder whether Dallas and Austin's energy sectors themselves are more diversified in terms of having up-stream extraction activity (which is dominant in Alberta) as well as mid-stream and down-stream processing, vending and transportation work, which may have contributed to job stability. Demand for oil has not wavered, only the price.
City economies and economic drivers are highly complex. However isolating these two variables of energy sector and information sector trends provides interesting food for thought.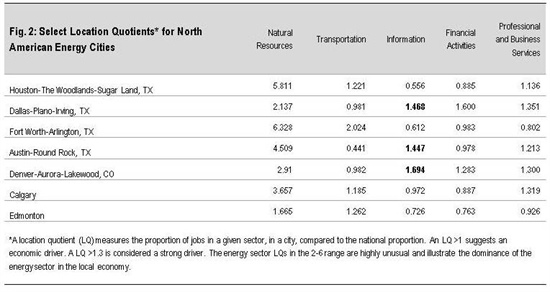 Wendy Waters
Vice President, Research Services & Strategy
Leading the national Research and Strategy team, Wendy's responsibilities include providing economic, demographic and market-trends analysis to support long-term asset acquisition, development and management strategies. Wendy has been working in real estate research since 2002, including over a decade with GWL Realty Advisors. She holds a Ph.D. in comparative-world and economic history from the University of Arizona.