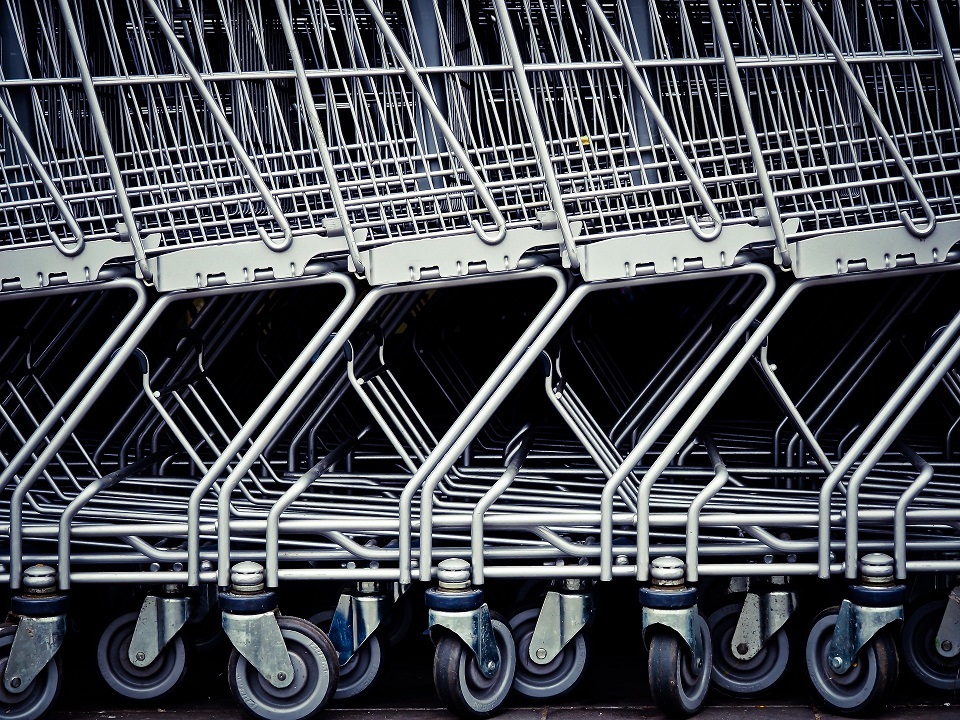 What is Driving Change in the Retail Sector Beyond Online Shopping?
March 14, 2018
The rise of online shopping is often cited as a key factor driving consolidation in the retail market, most notably among fashion, electronics and media retailers. Indeed, data from Statistics Canada shows that online sales growth has been strongest for clothing and accessories and music, hobbies and books sectors the last several years, with electronics among the largest in terms of total overall volume (Fig. 1).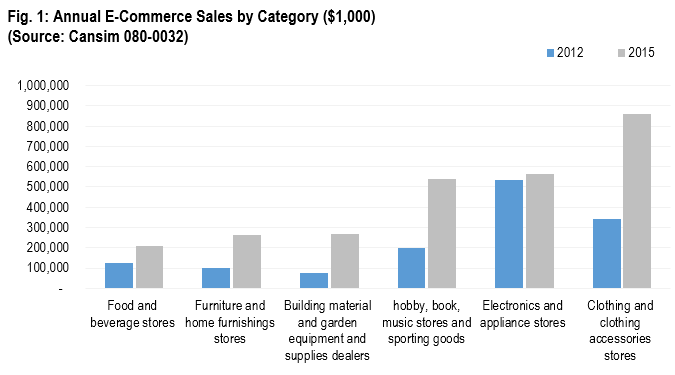 Recent shifts in the retail market however, are not driven by the growth of online shopping alone—data on household spending also highlights interesting dynamics in terms of where and how Canadian consumers are spending. Generally, Canadian households appear to be consuming more food and experiences.
Looking at Statistics Canada's Survey of Household spending (Fig. 2), we can see that discretionary[1] spending patterns have changed among Canadian households. It is important to note that the Survey of Household Spending focuses on Canadian spending patterns and differs from overall retail sales (retail sales includes purchases from tourists and travelers). Focusing on household spending helps to highlight retail trends that are more reflective of long-term domestic consumption patterns.
Since 2010, Canadian consumers appear to be spending more on travel, entertainment and recreation, food from both grocery stores and restaurants, as well as personal care and home furnishings. Personal electronics, media, clothing and home electronics conversely, saw declines over the same time period.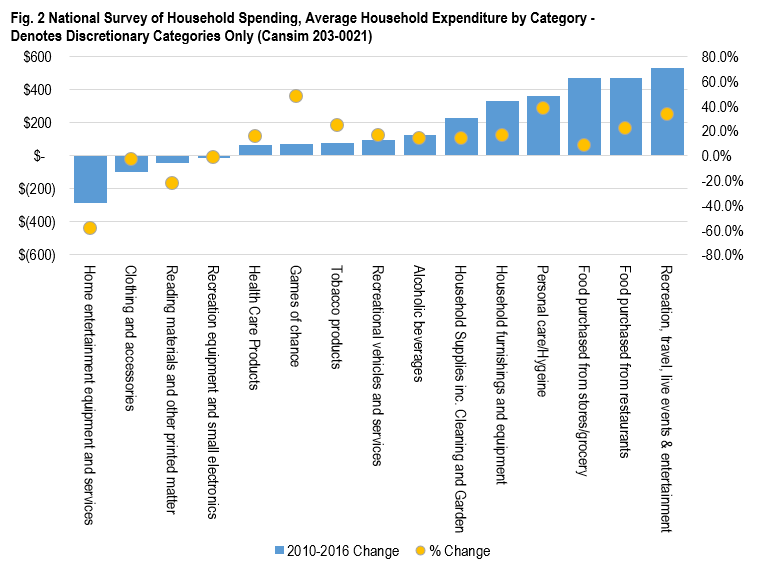 These shifts highlight several interesting themes related to local retail demand.
Food continues to be a growth sector, supported on one end by millennials and families eating out for both time savings and experience benefits, as well increased demand for groceries and related products. Within the grocery sector, organic and wellness products, prepared meals and specialty/niche foods have been growing segments.
Save for home furnishings, which have benefitted from Canada's strong residential market, consumers also appear to be spending less on durable, 'non-essential' goods and more on products related to household operations. Home entertainment, which includes large electronic items such as televisions and speakers, have seen the least spending growth among sectors analyzed.
For retail property investors and managers, the above trends highlight several important themes. Beyond the growth of experience, food and grocery segments, the data highlights that certain sectors are being impacted by both rising online sales penetration and shifting consumer preferences. Online shopping, although highly significant, is not the only factor shaping the retail market.
Ultimately, these trends have impacts in terms of tenant mix and selection, as well as the outlook for specific shopping centre formats and functions. For GWLRA, our portfolio and investment strategies continue to be reflective of these larger shifts in the retail market, with our assets focused on food, grocery and amenity offerings for consumers.
We would like to thank Colliers International Consultants, Deloitte's Real Estate Advisory Group and JC Williams for their insights on this topic.
Omni-Channel Retailing and the Rise of the Consumer
[1]
Discretionary spending includes all spending sectors in the Household Survey, less shelter costs, communications (e.g. wireless, cable), and transportation, prescribed health care products, education, charitable contributions, and taxes, insurance and pension contributions.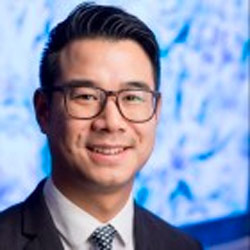 Anthio Yuen
Senior Director, Research Services & Strategy
Based in Vancouver, Anthio brings more than 15 years of experience to GWLRA's Research and Strategy team specializing in property market analysis, applied research and portfolio strategy. He has a Master's in Urban Planning and Development from the University of Toronto.