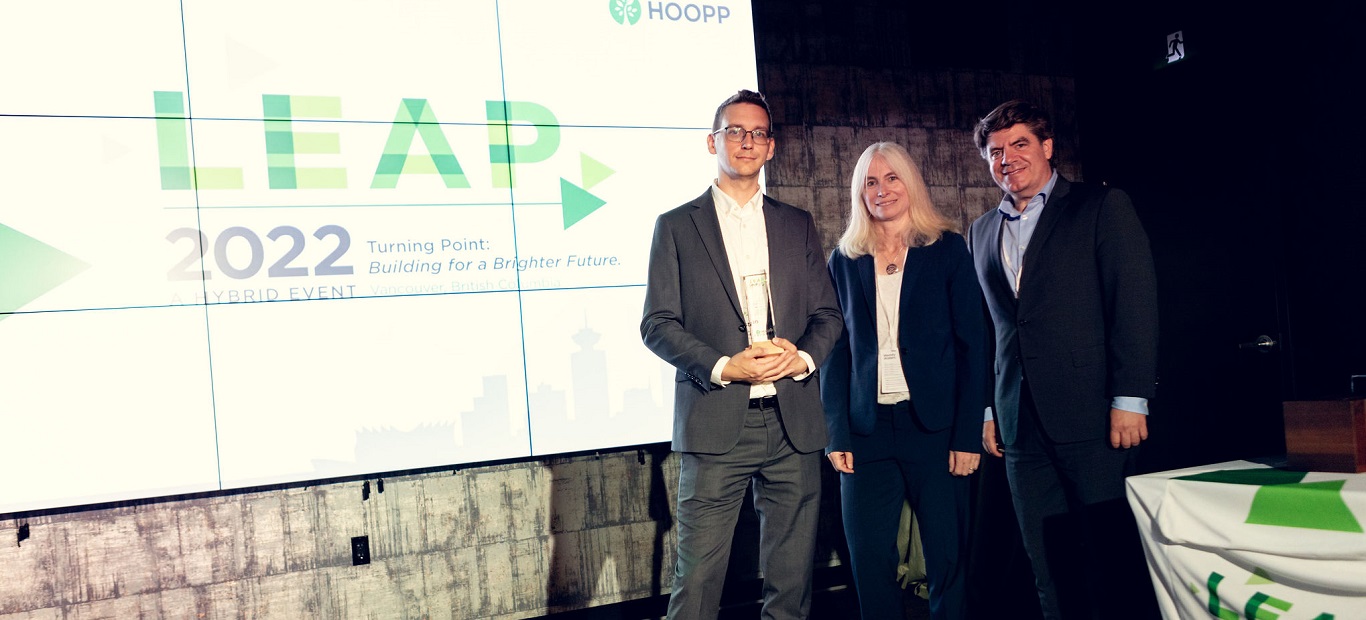 +
GWL Realty Advisors Wins Two HOOPP LEAP Awards
June 9, 2022
Vancouver June 9, 2022. GWL Realty Advisors announced today that it picked up two prestigious industry awards at the 2022 HOOPP LEAP Awards Show in Vancouver, British Columbia. Organized by the Healthcare of Ontario Pension Plan (HOOPP), the LEAP (Leadership in Environmental Advancement Program) Awards honour property managers and tenants for excellence in areas such as sustainability innovation, climate leadership, stakeholder engagement and community impact.
GWLRA took home the Stakeholder Engagement Innovator award and the Climate Leader award, showcasing its commitment to working collaboratively with its tenants and continuing to grow its expertise in climate risk management.
"Now more than ever, real estate companies like ours must act to manage environmental impacts and address sustainability issues. More and more, this includes efforts to reduce our GHG emissions and advance our climate change adaption and mitigation work", said Ralf Dost, President, GWL Realty Advisors. "Since inception, the LEAP Awards have allowed leading managers in the industry to collectively celebrate achievements in sustainability, and to find new inspiration in the fight against climate change."
Award Details:
Stakeholder Engagement Innovator
This award recognizes an innovative approach to engage stakeholders on sustainability. Working with the building's largest tenant, BNP Paribas, GWLRA transformed an unoccupied rooftop area at Blvd. 2001 Robert-Bourassa, in Montreal, into an urban garden complete with beehives. The produce harvested in the urban garden amounted to more than 1,000 pounds of food and was donated to a local food bank. The 10.18 kg of honey from the beehives was distributed among the users of the building to make the initiative tangible for all tenants. The environmental benefits of the project included help with managing rainwater runoff and reducing the building's heat island effect. In addition, this dynamic initiative created a tremendous opportunity for GWLRA to strengthen its relationship with its tenants and has inspired future urban garden installations across the portfolio.
Climate Leader Award
This award recognizes teams that have taken steps to identify climate change risks and opportunities, and address risks using adaption and/or mitigation measures. In 2021, GWLRA partnered with a third-party risk analytics firm to complete a natural hazard and physical risk exposure assessment for all GWLRA-managed assets, including its HOOPP-managed assets. The assessment covered 20 natural hazards and climate-related events and included scenario analyses of climate change projections for the years 2045 and 2070, under three warming scenarios, to understand how the risk of climate-related hazards will evolve over time. Moving forward, GWLRA intends to develop best practice considerations for all its assets regarding identified risks. In addition, the company is now using these risk screening tools when evaluating all new acquisitions.
"Being innovative, engaging tenants, and developing new risk assessment tools are just some of the ways we are meaningfully weaving sustainability across our organization," says Robert Campanelli, Vice President, Corporate Sustainability. "These awards help to validate our approach and motivate our teams to continue our journey toward a more sustainable future."
To learn more about how GWLRA is creating sustainable impacts and bringing positive change, click here.
ABOUT LEAP
The Leadership in Environmental Advancement Program (LEAP) is HOOPP Real Estate's signature sustainability program promoting education, recognition and innovation with our management partners. The LEAP Awards launched in 2012 as an awards ceremony to recognize property management partners' sustainability achievements and drive innovation and competition.
LEAP empowers, educates, connects and rewards HOOPP Real Estate's partners to inspire action around sustainability and on environmental, social and governance (ESG) issues more broadly that drive portfolio returns and accelerates the adoption of leading sustainability practices.

GWL Realty Advisors
GWL Realty Advisors Inc. is a leading North American real estate investment advisor providing comprehensive asset management, property management, development and specialized real estate advisory services to pension funds and institutional clients. GWL Realty Advisors Inc. manages a diverse portfolio of office, industrial, retail and multi-residential assets as well as an active pipeline of new development projects.