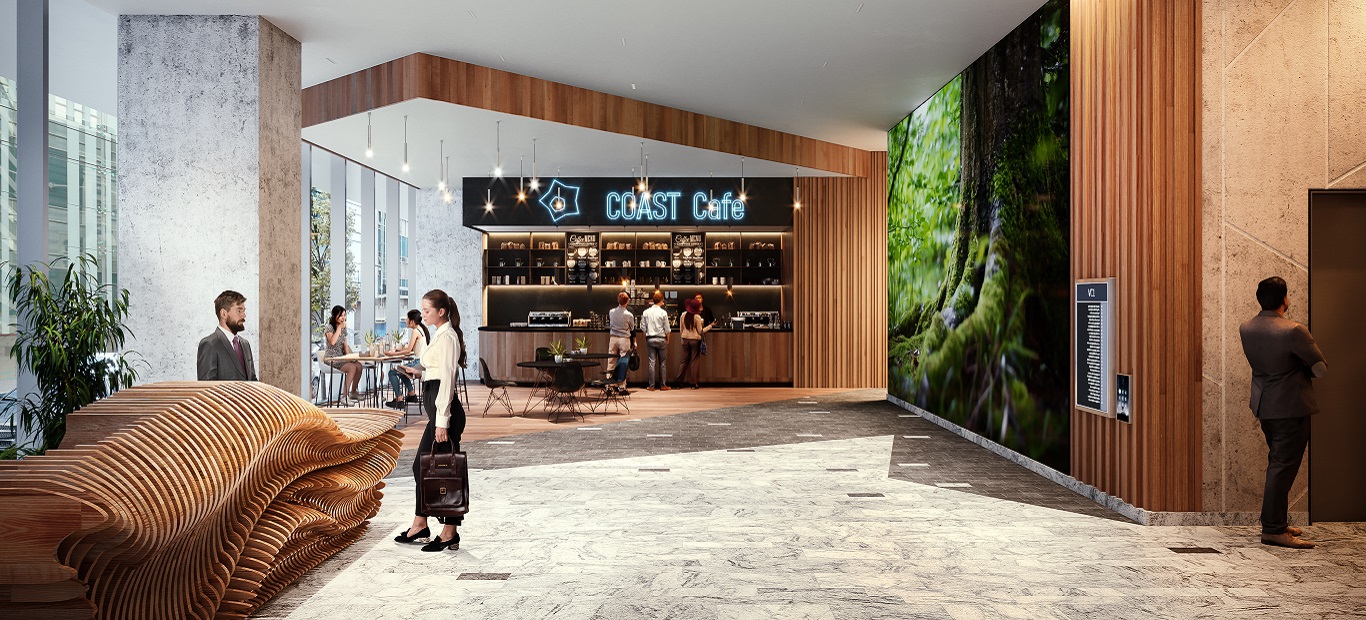 +
GWLRA's western development team poised to meet anticipated demand for office space
August 4, 2021
Two landmark developments in Vancouver show the way
As an organization, we thrive on meeting the challenges of Canada's constantly-evolving real estate industry and take pride in being involved in innovative development projects from concept to completion.
New development is an important part of our client portfolios. In major markets across Canada, when buildings are not available for purchase, we construct new, high-quality properties for our investor clients, who include pension funds and institutional investors. At the start of the year, our active developments across the country and in various asset classes totalled 10 projects, representing almost $1.1B in costs and $400M of forecasted value created.
A dedicated team of market experts and analysts help decide where and what to develop. For example, our research indicates demand for office space will rise again as the pandemic eases, especially in urban centres, in walkable neighbourhoods with desirable amenities and in close proximity to transit. As companies strive to make their offices productive, inspiring, and fun for their employees, we are leveraging our depth of experience to develop leading-edge, desirable office buildings.
One example of a project destined to be a landmark development in Vancouver is False Creek Station, a 13-storey, transit-oriented office building in the emerging False Creek Flats area of Vancouver. False Creek Station comprises 269,400 square feet of rentable area, including 8,100 square feet of ground-floor retail space. Overseen by our western development team and designed by MCM architects, the building will make a bold statement with its angular crystalline shape. It will provide large, functional floorplates that are in high demand and rare in the Vancouver market.
In addition to office floors that create comfortable, inviting work environments, tenants and their employees will enjoy state-of-the-art amenities such as a 4,300-square-foot fitness centre on the first level, a 3,000-square-foot rooftop terrace, several outdoors decks and five levels of underground parking including a first-class bike storage facility. False Creek Station will be within walking distance of downtown, close to the extensive shopping, dining and services in the neighbourhoods of False Creek, Olympic Village, Gastown and Mount Pleasant. A SkyTrain station sits at False Creek Station's front door, with downtown just one stop away.
Anchoring the neighbourhood will be the new $2 billion St. Paul's Hospital, the largest hospital development project in British Columbia history, scheduled for completion in 2026 and just a two-minute walk from False Creek Station. As a result, our new building will appeal to health and life science companies, as well as tech campuses and traditional corporate tenants.
Another notable project that is under the management of our western development team is Vancouver Centre II. The 33-storey tower at West Georgia and Seymour Streets is the next phase of the Vancouver Centre Complex and is directly connected to both the Canada Line and Skytrain transit systems. The LEED Platinum office building, rich in amenities and designed to provide forward-thinking companies with engaging and inviting workplaces, will be an iconic development in Vancouver's Central Business District.
We are confident these new development projects will deliver strong, long-term returns for our clients, will exceed the expectations of tenants and residents, and add value to the communities where they are located.
To learn more about these projects including pre-leasing information, visit www.falsecreekstation.com or www.vancouvercentre.com
Up next…. We'll showcase some new projects underway in eastern Canada including an exciting residential development in Montreal.

GWL Realty Advisors
GWL Realty Advisors Inc. is a leading North American real estate investment advisor providing comprehensive asset management, property management, development and specialized real estate advisory services to pension funds and institutional clients. GWL Realty Advisors Inc. manages a diverse portfolio of office, industrial, retail and multi-residential assets as well as an active pipeline of new development projects.