Keep Your Receipts: Retail Returns and The Rising Demand for Reverse Logistics
September 9, 2019
This past summer, Amazon shoppers purchased a record breaking 175 million items during Amazon's Prime Day event, surpassing the sales of its 2018 Black Friday and Cyber Monday[1] promotions combined. Eighteen countries took part in the two-day sales event with electronics, food, beauty and home accessories the most popular selling items in North America.
As member accounts were charged and items shipped to customers, another important process began: customer returns. Across the retail industry, the rise of online shopping is giving way to product return rates upwards of three times higher than traditional in-store purchases. While a cost burden to retailers, the process of returning a product—known as reverse logistics—has been a tailwind for industrial demand across North America. The focus of this GWLRA Research Note is to shine some light on this critical but less understood part of retail distribution.
Reverse Logistics: A Backgrounder
Reverse logistics is the process of returning a purchased item to a retailer and the steps for handling it thereafter. This can include many steps, including bringing an item to a store or warehouse for re-stocking, moving a product to a discounter for resale, or shipping to a location for disposal. Reverse logistics is more expensive than forward (retailer to customer) logistics due to the high labour and shipping costs involved, as well as the complexity of having products inspected, reclassified, re-shelved, repaired or outright destroyed. Retailers have significant control over forward logistics in terms of inventory and quality—returned products conversely, come back in various conditions and at irregular volumes.
The complexity of reverse logistics is further driven by the type of product – clothes need to be inspected for both damage and hygiene, while items such as electronics and appliances require testing for functionality. For many food items, products brought back to the store are disposed of given safety requirements. Obviously, the priority for the retailer is to recoup as much of the value as possible with a returned product—returns can negatively impact margins with product disposal often a last resort.
Fig. 1: Comparison of Forward and Reverse Logistics
Component

Forward Logistics

Reverse Logistics

Product Quality

Controlled, uniform

Variable

Delivery Points

Multiple

Multiple

Volume Control

Predictable

Unpredictable

Cost

Controlled

Variable

Inventory Management

Known based on fulfillment requirements

Unknown until returns are received

Processing

Delivery to store or consumer

Refund processing, inspection, repair, re-shelving, re-distribution, disposal

Source: US Postal Service and OIG Analysis. Adapted from report: US Portal Service (2018). Riding the Returns Wave: Reverse Logistics and the U.S. Postal Service
The Future Growth of Reverse Logistics
According to Allied Market Research[2], the global Reverse Logistics market was valued at US$415.2 billion in 2017 and is projected to reach US$603.9 billion by 2025. Several structural factors continue to support the segment's expansion outside of population and spending growth alone:
High return rates for online purchases:

As mentioned, return rates for products purchased online can be more than three times higher than products purchased in store according to several sources[3]. 10% of products purchased in-store are returned on average, compared to upwards of 30% for online purchases. Return rates for online apparel can be even higher, exceeding 75% in some cases. The provision of free shipping/free returns for online orders has encouraged consumers to purchase and 'try-on' products without consequence.

Emerging online segments:

Grocery, furniture, appliances and health products generally have low to minimal levels of online sales compared to other categories[4]. As online penetration starts to rise in those sectors, we expect reverse logistics activities to increase and grow in complexity.

Omni-channel growth

: In today's online and mobile-enabled retail environment, consumers can access, buy and receive products through multiple physical and digital channels. The same is true in reverse—customers can return items directly in-store, ship to a warehouse or drop-off at a parcel centre or mall kiosk. This is adding to the demand and growth of Reverse Logistics activities as retailers must increasingly process products received from various sources.

Growing environmental regulations:

increasingly strict regulations on how products are recycled and disposed of is creating demand for specialised return processes in segments such as electronics and pharmaceuticals.
Supply Chain Impacts
Data tracking the physical growth of reverse logistics is limited given the varying return models retailers take and the integration of both forward and reverse distribution processes.
Some retailers for example take a blended/co-located approach, housing both forward and reverse logistics in one facility. Returned products, like outbound orders for eCommerce fulfillment, are physically separated from standard in-store distribution. Other retailers take a dedicated approach, housing returns in specialized reverse logistics facilities to better manage inspections and processing. Others may take a hybrid approach utilizing both dedicated and blended warehouse facilities as well as relying on suppliers/manufacturers themselves to manage return inspections. As for the management of reverse logistics processes, some retailers may elect to outsource some or of all their requirements to third party logistics (3PL) providers for cost and economies of scale. Accordingly, with the large, distributed population across Canada, 3PLs are often the preferred method of product distribution (both forward and reverse) for many retailers given the efficiency and scale of their national operations.
A recent CBRE report[5] notes that reverse logistics can also require 15-20% more space than standard retail distribution activities due to the specialized and often unpredictable nature of inspection requirements for a returned product. Inspections for electronics and appliance returns for instance, may require several different phases of testing and therefore require extensive labour and equipment.
Industrial Real Estate Impacts
Quantifying the physical real estate demand from reverse logistics is also difficult given the varied facility approaches retailers can take as mentioned. Overall, given that online sales in North America is forecast to grow by another US$497 billion through to 2023 (more than 90% net growth)[6], the volume of products being returned is expected to increase accordingly. Applying a conservative 20%-30% return rate to this US$497 billion of net new online sales suggest potentially US$100 to US$149 billion of products being returned over the several years. This will undoubtedly put pressure on existing reverse supply chains to accommodate the growth.
Fig. 2: Forecasting Potential Reverse Logistics Growth in North America (2019-2023) – $US Billions
Forecasted eCommerce Sales and Potential Return rates

($US Billions)

Estimated eCommerce Sales

YE 2018

Estimated eCommerce Sales YE 2023

Net Growth

in Sales

2018-2013

Net Sales Growth at 20% Product Return Rate

Net Sales Growth at 30% Product Return Rate

Canada

$40.5

$82.1

$41.6 (102%)

$8.3

$12.5

US

$514.8

$969.7

$454.9 (88%)

$91.0

$136.5

Total

$555.4

$1,051.8

$496.5 (89%)

$99.3

$148.9

Source: eMarketer (2019) Retail E-Commerce Sales in Canada and the US 2017-2023.
As for leasing implications, several sources, in addition to our own research, suggest the following trends are expected to occur. All bode well for industrial demand in the future:
Rising demand for specialized return facilities as larger and more sophisticated retailers take a dedicated approach to their product returns.

Groups such as FedEx, Canada Post and UPS are expected to continue growing in response to rising volumes of consumer deliveries and returns as they manage the retail 'last mile'.

3PLs will continue to grow, particularly in Canada where outsourcing is preferred for both forward and reverse logistics.
Overall, as online sales continue to grow across North America, expect reverse logistics to gain more prominence as a demand driver for industrial real estate.
Other related Research:
We would like to thank Sara Obidi, a Master of Urban Studies candidate at Simon Fraser University, for her contributions to this Research Note.
[1] Source: Amazon (2019), Alexa, How Was Prime Day? Prime Day 2019 Surpassed Black Friday and Cyber Monday Combined Worldwide.
[2] Source: Allied Market Research (2018), Global Reverse Logistics Market - Opportunities and Forecasts, 2018-2015.
[3] Source: Financial Post (2017), Exploding Online Sales and a Three-in-10 Return Rate Mean Industrial Real Estate Finally Feeling the Love.
Source: eMarketer (2018), Retailers Brace for Returns this Holiday Season.
Source: Canadian Shipper (2016) In Reverse.
Source: US Postal Service (2018), Riding the Returns Wave: Reverse Logistics and the U.S. Postal Service.
[4] Source: TD Economics (2018), Delivering Disruption - The Impact of Online Shopping in the U.S. & Canada.
[5] Source: CBRE (2018), Return to Sender – Holiday Season Heightens Challenge of Online Returns.
[6] Source: eMarketer (2019) Retail E-Commerce Sales in Canada 2017-2023.
Source: eMarketer (2019) Retail E-Commerce Sales in the US 2017-2023.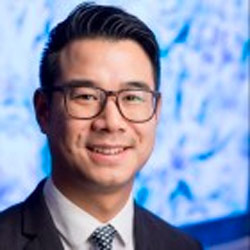 Anthio Yuen
Senior Director, Research Services & Strategy
Based in Vancouver, Anthio brings more than 15 years of experience to GWLRA's Research and Strategy team specializing in property market analysis, applied research and portfolio strategy. He has a Master's in Urban Planning and Development from the University of Toronto.